You cannot add "Softest Muslin Cloth" to the cart because the product is out of stock.
Aknari Youth Brightening Serum
February 17, 2021
MUN
Aknari Youth Brightening Serum
$110.00 $
What is it? Aknari is a medium weight oil serum made from just three exquisite ingredients: certified organic cold pressed Prickly Pear Seed & Argan oils, Bulgarian Rose Oil.
Notes from the Curator: A feat in minimalist perfection that we showcased in our Beauty Box a few years ago. Mūn partners directly with women's coops in Morocco to source the best prickly pear seed and argan oils.
Let's Get Nerdy: Prickly Pear oil is rich in linoleic acid, phytosterols and Vitamin E, along with beneficial properties from Vitamin K and Zinc. Argan oil is rich in ferulic acid and squalene and due to its fatty acid profile, extends the shelf life of the prickly pear.
About the Brand

Mun Skincare was conceptualized by international celebrity makeup artist, Munemi Imai who founded the brand with her Moroccan business partner Anas Saidi. After a decades-long career as a celebrity makeup artist, Munemi cultivated her own personal philosophy about beauty: a clear, glowing complexion is the perfect foundation. Mūn Skincare harnesses Moroccan beauty secrets with a Japanese aesthetic and minimalism to create uniquely beautiful and effective skincare.

How to Use

Apply 1-3 drops on clean, damp skin (over a toner/mist and a water-based serum). Follow with a cream, or balm.

Ingredients

Prickly Pear Seed Oil*, Argan Oil*, Rose Flower Essential Oil
*Certified Organic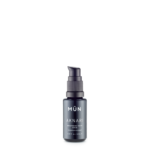 Aknari Youth Brightening Serum