Alubia Blanca Bean
February 23, 2021
RANCHO GORDO
Alubia Blanca Bean
$8.00 $
Alubia Blanca Beans are a small, versatile Spanish-style white bean. It has a creamy texture and holds its shape even with long, slow cooking. Small and creamy, these are one of the quickest-cooking beans. They have a thin skin but still manage to hold their shape, making them ideal for salads.
Classic Alubia beans are often described as European-style beans, but you can use them in all kinds of cooking, from Mexican to Tuscan to even classic Yankee baked beans.
Suggestions: Soups, baked beans, salads, bean dips, pot beans
Size: 1 Lb Bag
Cooking Instructions:
Check beans for debris, and rinse thoroughly. In a large pot, sauté aromatic vegetables (onions, garlic, celery, carrot, etc.) in olive oil. Add beans and enough water to cover by about 2 inches. Bring to a full boil for 10 to 15 minutes. Reduce heat to a gentle simmer, using a lid to help regulate the heat, and gently cook until done, 1 to 3 hours. Salt when the beans start to soften. A pre-soak of 2 to 6 hours will lessen the cooking time.
Free U.S. Shipping, No MinimumSubscribers Save 15% In Our Retail Shops Every Day!
About the Brand

Rancho Gordo was founded by Steven Sando

How to Use

COOKING TIPS

* Pile these delicate legumes on a piece of grilled Tuscan bread, drizzle with fruity, green olive oil, and sprinkle with chopped sage and grated dry cheese, making an Italian "beans on toast."

* You can cook them with a ham hock or pancetta.

* They're also great with a few simple aromatics like onion, carrot, and celery.

* Wild Rice, White Beans and Tomatoes

1. In a bowl, combine the cubed heirloom tomato, olive oil, salt and pepper, and vinegar. Let stand for at least 30 minutes.
2. To make the salad, toss the cooked wild rice with a generous drizzle of olive oil. Make a ring around a bowl with the rice, then add the macerated tomatoes and finally the cooked beans. Sprinkle with parsley and maybe indulge yourself with one small drizzle of olive oil.

* A simple bowl with roasted tomatoes and garlic would be incredible.

* Alubia beans with Italian Salsa Verde
: Wonderful big, fat white beans topped with an intense green sauce.

To make Italian salsa verde:
Pound a clove of garlic with some salt and make a paste.
Add chopped fresh sage and flat-leaf parsley (about 3 parts sage to one part parsley) and continue pounding as you add really good olive oil. You could use a mortar and pestle or use a mini food processor.

* Use Alubia Blancas in recipes calling for navy beans, great northerns, cannellini or white kidney beans. They would also make a fair substitute for the rare Zolfini beans from Tuscany.

Ingredients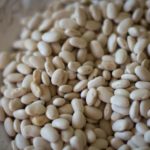 Free U.S. Shipping, No MinimumSubscribers Save 15% In Our Retail Shops Every Day!