Anniversaries, Volume 1
April 26, 2022
UWE JOHNSON
Anniversaries, Volume 1
$29.95 $
From a Year in the Life of Gesine Cresspahl, August 1967–April 1968
The first volume of a titanic masterpiece of twentieth-century literature, named one of the best books of 2019 by The New York Times critics.
It is August 1967, and Gesine Cresspahl, born in Germany the year that Hitler came to power, a survivor of war, of Soviet occupation, and of East German Communism, has been living with her ten-year-old daughter, Marie, in New York City for six years. Mother and daughter find themselves caught up in the countless stories of the world around them: stories of work and school and their neighborhood, with its shifting and varied cast of characters, as well as the stories that Gesine reads in The New York Times every day–about Che Guevara, racial violence, the war in Vietnam, and the US elections to come. Now, with Marie growing up, Gesine has decided to tell her daughter the story of her own childhood in a small north German town in the 1930s and 1940s. Amidst memories of Germany's criminal and disastrous past and the daily barrage of news from a world in disarray, Gesine, conscientious, self-scrutinizing, with a sharp sense of humor, struggles to describe what she has learned over the years and what she hopes to pass on to Marie. Marie, articulate, quizzical, with a perspective that is very much her own, has plenty of questions too. Uwe Johnson's intimate portrait of a mother and daughter is also a panorama of past and present history and the world at large. Comparable in richness of invention and depth of feeling to Joyce's Ulysses and Proust's In Search of Lost Time, Anniversaries is one of the world's great novels.
Author: Uwe Johnson
Translated by: Damion Searls
Free U.S. Shipping, No MinimumSubscribers Save 15% In Our Retail Shops Every Day!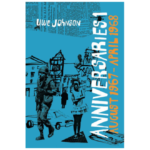 Free U.S. Shipping, No MinimumSubscribers Save 15% In Our Retail Shops Every Day!