Book Box: Barbara Pym + Naturallogic
December 27, 2021
Book Box: Barbara Pym + Naturallogic
$39.95 $
Free U.S. Shipping, No MinimumSubscribers Save 15% In Our Retail Shops Every Day!
What's in this Book Box:
1) Excellent Women by Barbara Pym
2) Naturallogic's Alpha Beta Resurfacing Mask
Retail Value: $76
Description

Excellent Women is a novel by Barbara Pym, first published in 1952, her second published novel and generally acclaimed as the funniest and most successful

Description

Excellent Women by Barbara Pym

One of Barbara Pym's richest and most amusing high comedies, Excellent Women has at its center Mildred Lathbury, a clergyman's daughter and a mild-mannered spinster in 1950s England. She is one of those "excellent women," the smart, supportive, repressed women who men take for granted. As Mildred gets embroiled in the lives of her new neighbors—anthropologist Helena Napier and her handsome, dashing husband, Rocky, and Julian Malory, the vicar next door—the novel presents a series of snapshots of human life as actually, and pluckily, lived in a vanishing world of manners and repressed desires.

Naturallogic's Alpha Beta Enzyme Resurfacing Mask

This luscious mask contains vitamin-filled raw honey, repairing & exfoliating fermented pumpkin that is rich in zinc & antioxidants, anti-inflammatory green tea & a gentle dose of glycolic acid to gently exfoliate and smooth skin. Toni Barandon, the creator, is a genius at making masks that are so gentle yet so effective. Relax, mask & read!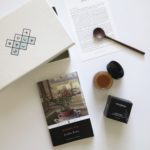 Book Box: Barbara Pym + Naturallogic