Book Box: Saadat Hasan Manto + NaturalLogic
December 27, 2021
Book Box: Saadat Hasan Manto + NaturalLogic
$39.95 $
What's in this Book Box:
1) The Dog of Tithwal by Saadat Hasan Manto
2) Naturallogic's Alpha Beta Resurfacing Mask
Retail Value: $84
Description

The Dog of Tithwal by Saadat Hasan Manto

A master of the short story, Saadat Hasan Manto opens a window onto Bombay's demimonde—its prostitutes, rickshaw drivers, artists, and strays as well probing the pain and bewilderment of the Hindus, Muslims, and Sikhs ripped apart by the India-Pakistan Partition. From a stray dog caught in the crossfire at the fresh border of India and Pakistan to friendly neighbors turned enemy soldiers pausing for tea together in a momentary cease-fire—Manto shines incandescent light into hidden corners with an unflinching gaze, and a fierce humanism.

Naturallogic's Alpha Beta Enzyme Resurfacing Mask

This luscious mask contains vitamin-filled raw honey, repairing & exfoliating fermented pumpkin that is rich in zinc & antioxidants, anti-inflammatory green tea & a gentle dose of glycolic acid to gently exfoliate and smooth skin. Toni Barandon, the creator, is a genius at making masks that are so gentle yet so effective. Relax, mask & read!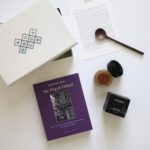 Book Box: Saadat Hasan Manto + NaturalLogic