Botanical Cleanser Caulis
September 19, 2023
MANASI 7, MANASI 7 SKINCARE
Botanical Cleanser Caulis
$71.50 $
Free U.S. Shipping, No MinimumSubscribers Save 15% In Our Retail Shops Every Day!
Manasi 7 Microbioskin Botanical Cleanser – Caulis 
What is it? Botanical Cleanser – Caulis is an SLS-free and organic water-activated formulation, effective yet mild makeup remover that cleansing balm and won't dry out your skin — its natural oils prevent clogged pores by deep-cleaning and removing excess oil.
Notes From The Curator:  It emulsifies from balm to oil to milk to water, rinsing away makeup, dirt and sunscreen, leaving a smooth, clean complexion with no residue.
Let's Get Nerdy: Certified Organic Sweet Almond Oil (vitamin E,A)
Antioxidant, non-comedogenic, hypoallergenic, helps control sebum production, soothes eczema, psoriasis, and sunburn.
Natural Fermented Camellia Seed Oil (vitamin A, vitamin b, vitamin E)
Antioxidant, moisturizing, calming, softening.
Natural Soapbark Wood Extract
Moisturizing, cleansing, foaming, conditioning.
Natural Soapwort Leaf And Root Extract (vitamin C)
Mild cleansing, reduces hyperpigmentation, soothes eczema and psoriasis,
Anti-inflammatory, antifungal.
Natural Vitamin E
Moisturizing, healing properties, helps strengthen the skin barrier function, anti-inflammatory, soothing.
Size: 50 ml/ 1.69 oz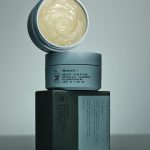 Botanical Cleanser Caulis