Congestion Clearing Enzyme Mask
August 14, 2021
YOU SKINCARE
Congestion Clearing Enzyme Mask
$89.00 $
What is it? This mask is formulated to thoroughly clean the pores without damage the skin barrier. It helps skin look more even tone, smooth the look of fine lines and wrinkles. Skin looks fresh, radiant, revitalized, and vibrant.
Notes from the Curator: Enzyme exfoliation is more gentle yet effective. Exfoliation helps remove old dead skin cells, so they don't get stuck in the pores causing clogged pores. You Congestion Clearing mask is gentle yet powerful mask which helps to effectively exfoliate the skin without damaging the skin barrier.
Let's Get Nerdy: The mask contains tiny circular beads (rice bran wax) that will give you a light physical exfoliation in addition to the enzyme.
Size: 1.8 oz / 50 mL
About the Brand

'YOU™ Skincare' is owned and operated by Amy Le, a laboratory scientist and a skincare addict. 'YOU Skincare' was borne out of a necessity to heal her own skin. In 2014, Amy started to suffer from adult-onset acne. Determined to find a solution beyond prescriptions and medications, she began to seek out and test various products. She was looking for skincare that was safe and effective. She wanted to eliminate her acne and start her skin down a healthier path. After years of frustration and little progress, she finally decided to formulate her own solutions. Trust science and nature -together- to heal your skin; you don't have to chose just one. There's a middle road. That's where 'YOU Skincare' comes in.

How to Use

How to use:
Always patch test before use. Stop immediately if any irritation occurs.
To be apply onto clean and wet skin
Using a clean spatula, apply a thin layer onto wet skin, avoiding the lips and eyes area.
Leave on for 2-5 minutes.
Gentle massage in circular motions then rinse off with plenty of tepid water.

Ingredients

Aloe Vera Juice, Aqua (Water), Curcuma Longa (Turmeric) Root Extract, Glycyrrhiza Glabra (Licorice) Root Extract, Bacillus Ferment, Glycerin, Oryza Sativa (Rice) Bran Oil, Panthenol, Astaxanthin, Sunflower Wax, Oryza Sativa Cera (Rice) Bran Wax, Perilla Frutescens (Perilla) Seed Oil, Azadirachta Indica (Neem) Oil, Sodium Polyacrylate, Citric Acid, Lactic Acid, Caprylyl Glycol, Sodium Gluconate, L-ascorbic Acid, Ethylhexylglycerin, Xanthan Gum, Potassium Sorbate, Didecyldimonium Chloride.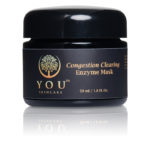 Congestion Clearing Enzyme Mask