Kangi 31 Large Detangling Comb
September 19, 2021
ABHATI SUISSE
Kangi 31 Large Detangling Comb
$28.00 $
What is it? KANGI 31 is a detangling comb handcrafted in Switzerland by third generation craftspeople using recycled plant-based acetate.
Notes from the Curator: Kangi 31's mint tortoiseshell pattern and polished gloss finish are a modern update to a classic design and make this the ultimate luxury piece worthy of displaying in your bathroom.
Let's Get Nerdy: KANGI 31 can be used wet or dry, and its ergonomic design glides smoothly through hair without causing breakage, split ends or snags. Use it for detangling, styling and to distribute hair masks and conditioner through wet hair without risking breakage.
About the Brand

Anju Rupal, is a lifelong social worker, environmental activist and the founder and CEO of Abhati. Every Abhati product comes with a vision, a mission, and a cause. Abhati Suisse makes next generation skincare and hair care that blends the advanced Swiss technology of their proprietary Abhati Complex™ with Indian tradition. Cleansing, hydrating and soothing come naturally to oils, creams and soaps made for hair, body and face. Lavish in their rich consistency, conditioning properties and their subtle yet addictive fragrances. Abhati is so much more than a beauty company. Behind it is a passionate team of beauty experts, designers and entrepreneurs who are working hard to curate a beautiful collection of products that work for both people and planet.

Ingredients

Kangi 31 combs are expertly crafted using a plant-based, recycled acetate. Unlike petroleum-based plastics, acetate plastics are environmentally-friendly since they are made from natural and renewable materials that decompose over time.

*Please note, the material is recycled and may show small flaws in the finish.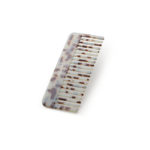 Kangi 31 Large Detangling Comb