Nadi Innate Flow Quell Balsam
February 17, 2021
FIFTY7KIND
Nadi Innate Flow Quell Balsam
$120.00 $
What is it? Nadi is a gorgeous, soft, melty balm formulated to be multi-correctional and to calm stressed, irritated, acneic, inflamed, dry, flaky, or itchy skin from over-exfoliation chemical or mechanical, environmental aggressors, pollution, or UV damage.
Notes from the Curator: Nadi is a Sanskrit word that translates as a tube, channel, river, or flow that describes the network of channels that allow energy to travel throughout the body.
Let's Get Nerdy: Nadi contains two separate infusions that take at least 3 months to prepare. Among other gorgeous ingredients, it contains Murumuru & Kokum butters, Tamanu & Black Cumin oils, Ashwagandha, Hawthorne Berry, vegan Ceramides, Copaiba resin.
Size: 1oz
About the Brand

Meet Gabrielle, the creator of Fifty7Kind. Gabrielle was raised an 'organic' child, in the English countryside. She says, "vegetables and fruit were grown at home and mum cooked with raw ingredients, from scratch, she taught me how to grow and gather herbs and use them as skin and hair care products". Before Fifty7Kind, Gabrielle was a professional, sponsored athlete (Mountain Biking & Adventure multi-sport racing) and also worked full time in a Design Studio for a publishing company. After she retired, while training for Triathlons for fun, she was unfortunately hit by a car and fractured her lower back, and sustained other injuries. This lead to a long road to recovery, that culminated in the creation of Fifty7kind.

How to Use

Multi-Purpose:
1. Overnight Mask : Emulsifies with water, mix with a mist or essence to create a micro-emulsion treatment mask.
2. Eye Treatment : Natural inflammatory multiplex reduces the appearance of puffiness and fine lines - add a soothing cool boost by storing NADI in the refrigerator.
3. Makeup Base : Fast-absorbing with a weightless texture that leaves a powdery non-greasy skin feel.
4. Skin Irritations : Rosacea, scarring, dark spots, dry skin, burns, and bug bites.
5. Combine : Mix with a mist, essence, oil, cream, or a small amount of loose mineral powder to create a liquid foundation.
6. Hands + Cuitcles : Soothing cracked, chapped skin on hands, cuticles, elbows, and feet.

Ingredients

Astrocaryum Murumuru Seed Butter+, Calophyllum Inophyllum (Tamanu) Oil*, Theobroma Grandiflorum (Cupuassu) Seed Butter*, Garcinia Indica Seed Butter (Kokum)+, Nigella Sativa (Black Cumin) Seed Oil* & Withania Somnifera Root (Ashwagandha)*, Calendula Officinalis*, Zingiber Officinale (Ginger Root)*, Crataegus Monogyna (Hawthorne Berry)*, Trifolium Pratense (Red Clover)*, Euphrasia Officinalis (Eyebright)*, Ocimum Tenuiflorum (Holy Basil)*. Glycine Soja (Soyabean) Seed Extract & Ceramide NP^, Platonia Insignis Seed (Bacuri) Butter+, Avena Sativa Kernel (Oat) Oil^, Rubus Fructicosis (Blackberry) Seed Oil*, Lecithin*, Isoamyl Laurate, Isoamyl Cocoate^, Sandalwood Seed Oil^ & Plantago Major (Plantain) Leaf* & Achillea Millefolium (Yarrow) Flower & Leaf*. Caprylic/Capric Triglceride & Phoenix Dactylifera (Date) Seed Extract*, Pomegranate Sterols^, Brassica Alcohol^, Azadirachta Indica (Neem) Oil*, Ubiquinone (CoEnzyme Q10)^, Tanacetum Annuum (Blue Tansy) Oil*, Copaífera Officinalis Resin (Copaiba)+, Bisabolol^,ArnicaMontana Flower Extract^, Hypericum Perforatum Extract (St John's Wort)+, Chamomilla Recutita (Chamomile) Flower Extract*, Calendula Officinalis Flower Extract*, Rosmarinus Officials (Rosemary) Leaf Extract.*
Key
*Certified Organic.
+Responsibly Wildcrafted, Sustainably Sourced and non GMO, COSMOS Approved.
^COSMOS/ECOCERT Approved.
~Limonene is natural component of essential oils (Blue Tansy)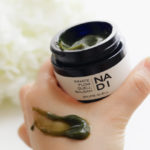 Nadi Innate Flow Quell Balsam