Nap In The Meadow Face Serum
Lavanya
February 23, 2021
EARTHWISE BEAUTY
Nap In The Meadow Face Serum
$64.00 $
Free U.S. Shipping, No MinimumSubscribers Save 15% In Our Retail Shops Every Day!
What is it? Nap in the Meadow is an aloe-based dewy serum that provides deep hydration, antioxidants and anti-inflammatory benefits.
Notes from the Curator: Using an Earthwise product is akin to Forest Bathing. Nap in the Meadow feel like a carefree traipse across a wild, overgrown meadow as your skin sips on plant magic. Layer it under an oil or mixed in with a few drops of oil to create a microemulsion. It was showcased in oour Beauty Box.
Let's get Nerdy: Nap contains three of Ava's favorite ingredients for decreasing skin inflammation: the dark blue German Blue Chamomile, Yarrow oil (another blue oil from Bulgaria) and Helichrysm (which is also beneficial for wrinkles and sagging skin). Turmeric CO2 supercritical extract provides antioxidant and antiinflammatory benefits.
Out of stock
Join The Waitlist
We will inform you when the product is back in stock. Please leave your valid email address below.
Add to Wishlist
Add to Compare
About the Brand

Earthwise Beauty was created by Ava Zhan Ava grew in Poland and moved to the U.S. and worked as an editor for a major U.S. publisher. She felt compelled to make and share her love of natural ingredients and skincare crafted from medicinal plants, that felt more satisfying to her than the skincare she found in stores. And so Earthwise was born. Using Ava's products feels like walking deep into lush living forests.

How to Use

Shake often to remix. Apply the serum generously onto freshly washed face. Most skin types will benefit from following immediately with a moisturizer, oil, or balm. (For sensitive skin types, though, we recommend applying aloe serums like this one over an oil or emollient moisturizer.) If using a slower-absorbing product as the next step, such as a thick oil-based serum or balm, it often works best to wait a moment until Nap in the Meadow is absorbed.

Store away from direct light exposure. Ideally REFRIGERATE to protect freshness and enhance the cooling, refreshing, and depuffing properties.

If redness or sensitivity appears when you first use Nap in the Meadow, allow your skin to adjust to the product gradually, by using only a thin layer once a day for the first 7–14 days. Skin Types
For all skin types, especially dry and dehydrated, mature, acne, combination, oily, and skin with eczema, rosacea, and psoriasis. If you have allergies or skin sensitivities but are able to tolerate products with nonirritant essential oils as active ingredients, you should be able to tolerate this product well.

Ingredients

Cold-press whole-leaf Aloe barbadensis leaf juice*, Sambucus nigra (elderberry) fruit extract, Curcuma longa (turmeric) root Supercritical CO2 Select extract*, caprylyl capryl glucoside (naturally derived), Lavandula angustifolia (lavender) oil (* and †), Achillea millefolium (yarrow) oil*, Helichrysum italicum (Italian everlasting) oil*, Marticaria recutita (German blue chamomile) oil*, potassium sorbate (natural food-grade preservative), organic Pelargonium graveolens (geranium bourbon) oil, Pelargonium roseum (geranium rose) oil*, Copaifera officinalis (copaiba balsam) resin†, Ferula galbaniflua (galbanum) oil*, xanthan gum, ascorbic acid (vit. C), Rosa woodsii (Wood's rose) flower essence†, Phlox longifolia (pink phlox) flower essence†, Achillea millefolium (white yarrow) flower essence†, Lupinus argenteus (silvery lupine) flower essence†.

*Certified organic. †Responsibly wildcrafted.

Aloe certified by the International Aloe Science Council (IASC) for purity and content.

Certified cruelty free, vegan, handcrafted, small batch. Contains gluten.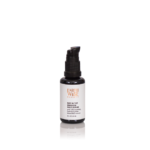 Nap In The Meadow Face Serum
Out of stock
Join The Waitlist
We will inform you when the product is back in stock. Please leave your valid email address below.