Nutritive Repair Emulsion
February 17, 2021
TWELVE BEAUTY
Nutritive Repair Emulsion
$72.00 $
Subscribers Save 15% In Our Retail Shops Every Day!
What is it? Twelve Beauty Nutritive Repair Emulsion is a rich yet quick absorbing skin barrier cream that restores and repairs the skin. With a powerful combination of ingredients rich in unsaturated fatty acids such as linoleic acid and phytosterols, this cream helps to regenerate and strengthen the epidermal skin barrier.
Notes from the Curator: Like all Twelve products, Nutritive Repair is brilliant for sensitive, stressed skin, really soothing it and strengthening the skin barrier with consistent use. Will suit most skin types but especially sensitive, dry and/or mature skin.
Let's get Nerdy: In addition to soothing, antioxidant herbal extracts and polyphenol-rich Cupuaçú butter, this cream contains Spent grain wax that consists mainly of linoleic acid, an essential fatty acid required for the regeneration of the epidermal permeability barrier.
Size: 50ml
Skin Type: Sensitive – Normal – Dry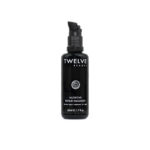 Nutritive Repair Emulsion