One Hundred Years Of Solitude
February 19, 2021
GABRIEL GARCíA MARQUEZ
One Hundred Years Of Solitude
$16.00 $
Free U.S. Shipping, No MinimumSubscribers Save 15% In Our Retail Shops Every Day!
One Hundred Years Of Solitude by Gabriel García Márquez
Winner of The Nobel Prize® In Literature 1982
Who is Gabriel García Márquez?
Gabriel García Márquez has been one of the undisputed literary giants of the past century; his stories are vivid, energetic, tender and unforgettable; they have touched the lives of readers across the globe and earned him countless awards including the Nobel Prize for Literature.
One Hundred Years of Solitude
'One Hundred Years of Solitude'' is endlessly fascinating, an intricately patterned work of fiction and a joyful, irrepressible celebration of humanity. Vibrantly colourful and teeming with life, this timeless tale blends the natural with the supernatural in one of the most magical reading experiences on earth.
'Many years later, as he faced the firing squad, Colonel Aureliano Buendia was to remember that distant afternoon when his father took him to discover ice.'
Gabriel Garcia Marquez's great masterpiece is the story of seven generations of the Buendia family and of Macondo, the town they have built. Though little more than a settlement surrounded by mountains, Macondo has its wars and disasters, even its wonders and its miracles. A microcosm of Columbian life, its secrets lie hidden, encoded in a book, and only Aureliano Buendia can fathom its mysteries and reveal its shrouded destiny. Blending political reality with magic realism, fantasy and comic invention, 'One Hundred Years of Solitude' is one of the most daringly original works of the twentieth century.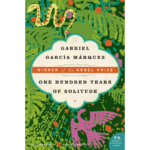 One Hundred Years Of Solitude