Pa'akai Cleansing Cream: 4oz
March 17, 2021
HONUA SKINCARE
Pa'akai Cleansing Cream: 4oz
$42.00 $
What is it? Pa'akai is a cream cleanser enriched with hawaiian salt, antioxidant rich hibiscus and seaweed extract gently cleanses the skin leaving it soft, smooth and hydrated.
Notes from the Curator: Cleansing Hawaiian salt and antioxidant rich hibiscus combine to create a gentle daily cleanser that will leave your skin feeling soft, smooth and hydrated. Seaweed extract works to strengthen and renew the skin, while accelerating the natural skin repair process. Our Pa'akai Cleansing Cream is great for ALL skin types – including yours!
Let's Get Nerdy: Seaweed contains vitamins, minerals, enzymes and amino acids with skin rejuvenating and healing properties. Full of antioxidants, it's great at promoting tissue regeneration and creating skin elasticity. It's anti-inflammatory properties make it great for all skin types, but especially for those with sensitive or allergy prone skin"
About the Brand

Kapua Browning founded Honua Hawaiian Skincare in 2015, when the demand for her Hawaiian crafted products grew beyond her treatment room. Born and raised on O'ahu as an avid surfer and beach girl, Kapua began to notice sun damage and pigmentation in her own complexion as early as her 20's. In an attempt to take care of her skin, she became passionate about beauty and began to train in aesthetics and learn about traditional Hawaiian healing and medicinal herbs. After a decade of experience as a licensed esthetician, and extended training in herbalism and product development, Browning began the building blocks for her own hand-crafted skincare collection, Honua Skincare.

How to Use

Dispense 2-3 pumps into hands and massage gently over face.
Add water and continue massaging before rinsing clean.
Pa'akai Cleansing Cream also works well with your favorite cleansing device!

Mask option:
For extra glow, spritz beauty water in 2 full pumps of cleanser and mix together to turn it into a soothing face mask.
Leave the mask on for 15 minutes before
rinsing off with warm water.

Ingredients

Pure Vitalized Water (Aqua)
Organic Rose (Rosa damascena) Hydrosol
Organic Witch Hazel Water (Hamamelis virginiana)
Wild Harvested Seaweed Extract (Fucus vesiculosis)
Hibiscus( Hibiscus sabdariffa)
Pa'akai (Hawaiian Salt)
Organic Herbal Oil Infusions of Rose Petals (Rosa damascena), Lavender (Lavandula angustifolia), Chamomile Flowers(Matricaria recutita), Calendula Blossoms (Calendula officinalis), Comfrey Leaf & Root (Symphytum officinale) & Rosehips Seeds (Rosa mosqueta) in Organic High Oleic Safflower (Carthamus tinctorius) & Sesame (Sesame indicum)oils
Sorbitan Olivate
Aloe Vera Gel (Aloe barbadensis)
Vegetable Glycerin
Organic Lecithin
Organic Gromwell Root CO2 (Lithospermum erythrorhizon)
Sage (Salvia officinalis) & Organic Rosemary Antioxidants (Rosmarinus officinalis)
Sodium Anisate
Sodium Levulinate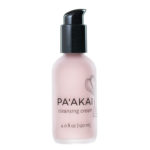 Pa'akai Cleansing Cream: 4oz