Postwar: A History Of Europe Since 1945
February 19, 2021
TONY JUDT
Postwar: A History Of Europe Since 1945
$20.00 $
Free U.S. Shipping, No MinimumSubscribers Save 15% In Our Retail Shops Every Day!
Almost a decade in the making, this much-anticipated grand history of postwar Europe from one of the world's most esteemed historians and intellectuals is a singular achievement. 'Postwar' is the first modern history that covers all of Europe, both east and west, drawing on research in six languages to sweep readers through thirty-four nations and sixty years of political and cultural change-all in one integrated, enthralling narrative. Both intellectually ambitious and compelling to read, thrilling in its scope and delightful in its small details, 'Postwar' is a rare joy.
Finalist for the Pulitzer Prize
Description

Postwar: A History of Europe Since 1945 is a 2005 non-fiction book written by British historian and scholar Tony Judt who specialised in European history.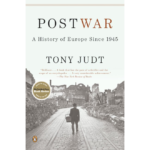 Postwar: A History Of Europe Since 1945