Power Vitamin C Cleansing Balm
February 17, 2021
LOVINAH
Power Vitamin C Cleansing Balm
$45.00 $
What is it? This luxurious, non-comedogenic emulsifying Vitamin C Cleansing Balm, transforms into a silky oil and milky emulsion which gently dissolves makeup, dirt, toxins and pollutants, leaving the skin feeling super-soft, deeply cleansed, calm and radiant.
Notes from the Curator:  This super hydrating cleansing balm will help remove even stubborn eye makeup and impurities with soothing essential oils and botanicals to calm irritation and reveal glowing skin.
Let's get Nerdy: This super moisturizing cleansing balm is loaded with skin loving ingredients and fruit enzymes to gently exfoliate dead skin cells. It rinses off effortlessly while gently purifying the skin. Power Cleansing Balm is a powerful, antioxidant rich "superfruit" balm, rich in vitamins C, vitamin E, and antioxidants which has protective and repairing properties against the damaging effects of pollution.
Size: 50ml
Out of stock
Join The Waitlist
We will inform you when the product is back in stock. Please leave your valid email address below.
About the Brand

Lovinah was created by Joy Ekhator as a modern interpretation of the ancient herbal traditions she grew up experiencing in her native Nigeria through her grandmother who was an herbalist, a traditional doctor, bone setter & midwife. Lovinah was initially started as a hobby, as Joy worked in tech in the U.S. Three back to back pregnancies, coupled with the frustration of not getting the promotions she deserved, the stress & hormones took a toll on her skin & health. She says, "I quit my job & went to Africa to seek peace & brainstorm on my next month. I came back to the States & started working on Lovinah full time".

How to Use

Scoop a generous dollop of balm and dispense it into the palm of the hand. Using fingertips, apply perfectly on the skin by massaging in a circular motion until the balm transforms into a silky oil. Splash face with lukewarm water to transform the oil into a milky emulsion and rinse until the skin feels clean and free of residue. Follow with your normal skincare ritual

Ingredients

Crambe Abyssinica, Cloudberry (Rubus Chamaemorus), Vaccinium vitis-idaea (Lingonberry) Seed Oil, Ribes Nigrum (Blackcurrant ) seed oil, Chokeberry (Aronia Melanocarpa) Seed Oil , Oxycoccus Palustris (Arctic Cranberry) Seed Oil, Vaccinium myrtillus (Bilberry ) seed oil ,Psidium Guajava Seed Oil, Amaranthus caudatus, Nigella sativa, Tocopherol, Polyglyceryl-3 Palmitate, Tetrahexyldecyl Ascorbate, Polyglyceryl-4 Oleate, Polyglyceryl-3-palmitate , Polyglycerol-3 Beeswax, Lithospermum Erythrorhizon, Plantago major, Roseroot (Rhodiola rosea root extract), Meadowsweet (Spiraea ulmaria extract), Heather Flower Extract (Calluna vulgaris flower extract), D-alpha-Tocopheryl acetate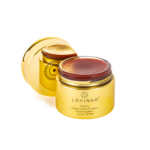 Power Vitamin C Cleansing Balm
Out of stock
Join The Waitlist
We will inform you when the product is back in stock. Please leave your valid email address below.