You cannot add "Resiliency Face Serum" to the cart because the product is out of stock.
Resiliency Face Serum
February 16, 2023
Resiliency Face Serum
$110.00 $
What is it? Resiliency is Earthwise Beauty's ultimate anti-aging serum with incredible youth-returning powers in an ultra-light, fresh, aloe-gel format.
Notes from the Curator: Resiliency has long been a cult favorite among customers for its ability to fix nearly every skin concern—it has immediate smoothing, firming, depuffing, and brightening effects, and can gradually decrease skin discolorations, dark spots, and scarring over time.
Let's get Nerdy: This formula is incredibly light, yet powerfully effective, with a wealth of healing properties. The rejuvenating serum has strong anti-aging and sun-damage-preventing properties, and works to return a youthful appearance to the skin. Resiliency removes puffiness, heals and reduces acne, reduces fine wrinkles, and lifts and firms the skin for an instantly pulled-together appearance. It can also be used as an eye serum by those who can tolerate more active ingredients on their under-eye skin: it instantly firms and depuffs the under-eye area, and because the light formula absorbs quickly, it works well under makeup.
Carrot seed: The main active ingredient here is carrot seed oil, one of the most effective yet very gentle skin-tissue-regenerating ingredients, which also contains natural sun-blocking and sun-damage-preventing and -correcting properties. This oil is incredibly rich in betacarotene, which makes this gel a great help to anyone with acne tendencies.
Chamomile: Anti-inflammatory German blue chamomile has been added to reduce any possible skin irritation and redness.
Helichrysum: Also called Italian everlasting, helichrysum is one of the top oils for scar and other spot reduction and for wrinkle reversal, and is also used in wound and burn healing by medical aromatherapists.
Aloe Leaf Juice: The high content of top-quality, truly minimally processed aloe plus a touch of spearmint offers a slightly cooling and definitely de-puffing quality.
Great For All Skin Types. (Especially, Mature, Wrinkled, Acne-Prone, Scarred, Combination, and Lacking Firmness)
Size:50ml
Out of stock
Join The Waitlist
We will inform you when the product is back in stock. Please leave your valid email address below.
About The Brand

Earthwise Beauty was created by Ava Zhan Ava grew in Poland and moved to the U.S. and worked as an editor for a major U.S. publisher. She felt compelled to make and share her love of natural ingredients and skincare crafted from medicinal plants, that felt more satisfying to her than the skincare she found in stores. And so Earthwise was born. Using Ava's products feels like walking deep into lush living forests.

How To Use

Apply generously onto freshly washed face. Most skin types will benefit from following immediately with an emollient moisturizer, facial oil, or balm. Ideally REFRIGERATE to protect freshness and enhance the cooling, refreshing, and depuffing properties.

Ingredients

Aloe Barbadensis (Cold-Pressed Aloe Leaf Juice)*, Daucus Carota (Carrot Seed Essential Oil)*, Tocopherol (Non-GMO Vitamin E From Sunflowers)", Helichrysum Italicum (Italian Everlasting) Oil*, (Alcohol)*; Natural ECOCERT Preservative [(Glycerin)*, Leuconostoc (Radish Root Ferment Filtrate)", Lonicera Japonica (Honeysuckle Flower Extract)*, Lonicera Caprifolium (Honeysuckle Extract)*, Populus Tremuloides (Quaking Aspen Bark Extract)*, (Gluconolactone)"]; Natural ECOCERT Emulsifier [(Glycerin)*, (Sucrose Laurate)", (Sucrose Dilaurate)", (Sucrose Trilaurate)", (Hydrogenated Starch Hydrolysate)"]; Marticaria Recutita (German Blue Chamomile) Oil*, Vaccinium Corymbosum (Blueberry Fruit Extract)*, (Xanthan Gum)*, Mentha spicata (Spearmint) Oil*, Rosmarinus Officinalis (Rosemary Leaf Extract)*.

* - Organic
" - Natural
° - Wild-Crafted

Vegan, Gluten-Free, Cruelty-Free.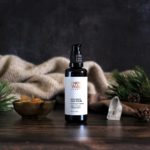 Out of stock
Join The Waitlist
We will inform you when the product is back in stock. Please leave your valid email address below.