You cannot add "Rosa Whole-Fruit Rosehip Oil" to the cart because the product is out of stock.
Rosa Whole-Fruit Rosehip Oil
February 17, 2021
EARTHWISE BEAUTY
Rosa Whole-Fruit Rosehip Oil
$50.00 $
What is it? Rosa is unique, high-quality whole-fruit rosehip oil , somewhat cloudy, intensely orange oil that is very light, fast-absorbing, and still fragrant with the scent of rosehips and a touch of spice.
Notes from the Curator: In its purest form, a single ingredient can speak distinctly and inspire, allowing us to focus on its complexity, be it wine, chocolate, coffee, or a highly concentrated and ultra-effective oil.
Let's get Nerdy: Rosehips are classified as astringent and cooling in Western herbalism, which points to their wrinkle-reducing and redness-calming properties. The fruit pulp and skin are high in carotenoids (such as beta-carotene and lycopene), which are powerful antioxidants and are also photo-protective (that is, they have been found to protect the skin from photo-damage from sun exposure). Our whole-fruit rosehip oil feels creamy and nonoily, more like an extract-oil than an oil, which makes it appealing to use even on a hot and humid summer day.
It benefits the following skin types and concerns:
Acne: Many skincare users find their acne tendencies diminish considerably with consistent use of whole-fruit rosehip oil. We attribute this to the high content of beta-carotene that the body converts to vitamin A.
Sensitive or sensitized skin: Many sensitive skin types thrive on simpler products that have only a few fresh, minimally processed ingredients, and on products that are free of essential oils. With Rosa, sensitive skins can enjoy a product that is simple, but still luxurious, and that delivers results.
Wrinkles: Rosehip oil has traditionally been used in Western herbalism for mature skin concerns, especially wrinkles. It can be an awe-producing experience to see deep wrinkles diminish with the consistent use of highest-grade rosehip oil.
Hyperpigmentation: Rosa helps with hyperpigmentation that is linked to acne congestion and acne scars.
Scars: We recommend using Rosa on scars from recent acne breakouts, and even on older scars, to help regenerate healthy skin tissue.
Rosacea, psoriasis, and eczema: These stubborn skin conditions often improve with rosehip oil—especially when it is made from the whole fruit—with skin becoming less likely to flare up and less prone to redness. These conditions do not improve nearly as much with the use of rosehip oil made from seeds only.
Mature skin: Rosa promotes a brighter, glowy, even-toned, more youthful skin appearance.
Size: 30ml
Out of stock
Join The Waitlist
We will inform you when the product is back in stock. Please leave your valid email address below.
About the Brand

Earthwise Beauty was created by Ava Zhan Ava grew up in Poland and moved to the U.S. and worked as an editor for a major U.S. publisher. She felt compelled to make and share her love of natural ingredients and skincare crafted from medicinal plants, that felt more satisfying to her than the skincare she found in stores. And so Earthwise was born. Using Ava's products feels like walking deep into lush living forests.

How to Use

Massage a few drops at a time onto freshly cleansed, still-moist face. Rubbing in with fingertips, creating outward, upward circles will stimulate circulation and enhance absorption. Alternately, mix 2 to 4 drops with a few pumps of an aloe-based serum or your moisturizer. You may also add 2 to 4 drops of Rosa to a single-use amount of face mask, or use Rosa alone as an oil mask (apply onto freshly cleansed, towel-dried skin, leave on for 30 minutes, and wipe off or wash off).

Ingredients

Rosa canina (rosehip) fruit oil*, tocopherol (vit. E, from non-GMO sunflowers), Rosmarinus officinalis (rosemary) leaf extract.

*Certified organic.

Certified cruelty free, vegan, handcrafted, small batch. Gluten free.

For external use only.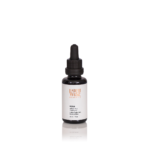 Rosa Whole-Fruit Rosehip Oil
Out of stock
Join The Waitlist
We will inform you when the product is back in stock. Please leave your valid email address below.