Skincare Prep For The Big Day
January 11, 2022
Skincare Prep For The Big Day
$135.00 $
Skincare makes a huge difference when it comes to preparing for a special day or an event, whether targeting a specific concern or wanting radiant glowing healthy looking skin!
Below is one of our go-to brightening skincare routines that works especially well under makeup. This is a very reliable routine for special occasions for prepping the skin before makeup. It is also a great brightening, antioxidant-rich routine to be used consistently, with ingredients like Vitamin C, Coffee Bean, Wine grapes, Bakuchiol, and more!
Cleanse – We cannot overstate the importance of finding the right cleansers for your skin. A cleanser that cleanses properly but doesn't strip your skin, makes a huge difference to the health & appearance of your skin.
Mist/Dampen the skin – We like working with damp skin before layering serums & moisturizers. We recommend to use a hydrating mist or essence in this step.
Water-Based Serum – Apply 1/2-1 pump of Cipher's C-shield Vitamin C serum and massage onto face & neck.
Oil Serum – Apply 2 drops of Lepaar's Smooth Operator oil serum, followed by 1 drop of Lepaar's Elastic Love oil serum (2-3 drops of Elastic Love if you have dry skin). Work quickly so my skin is damp for both applications, but you can also mix both in your palm & then apply. If you have oilier or combo skin, try instead 1-2 drops of Lepaar's Summer Wine oil serum.
Moisturize – Massage a pea-sized amount of Skin Alchemists' Time Traveller onto the face and neck. Works really well as a makeup primer and keeps skin hydrated through out the day which helps to keep makeup in place!
This Special Events Skincare Bundle contains 5 full-size products:
1. Cipher Skincare's C-Shield Antioxidant Serum (30 ml, $95)
2. Skin Alchemist's Time Traveller Renewing Face Cream (50ml, $117).
3. Summer Wine Even Tone Antioxidant Shield (15 ml, $63)
4. Smooth Operator Unfolding Face Balsam (15 ml, $63)
5. Elastic Love Firming Face & Neck Oil (15 ml, $63)
Total Retail Value of this bundle: $401
Notes: With this bundle , you have a hydrating, Vitamin C serum, 3 oil-based treatment serums (that can be alternated between or layered, used under the eye), and light yet luscious cream that works both as a day or night cream over the serums.
This bundle contains products to help you create a complete skincare routine for either day or night. It also makes a wonderful gift both for a beginner and a skincare connoisseur.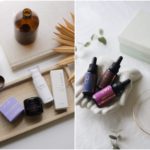 Skincare Prep For The Big Day