Staub Multi-Exfoliant & Mask
February 9, 2021
NAMARI
Staub Multi-Exfoliant & Mask
$37.00 $
What is it? Luxury meets a century-old beauty ritual in this skin transforming blend of Moroccan Rhassoul clay, ground hibiscus blossoms, genuine silver and micro-algae. Activated with water, it turns into a lush purple mousse that boosts circulation, draws out impurities and revitalizes on cellular level to reveal a refreshed and rosy complexion.
Notes from the Curator: When it comes to exfoliation, there is no general rule. Each skin is different and ever changing depending on genetics, climate, age, lifestyle and hormonal state. That is why Staub works in multiple ways and in every situation. The acids, enzymes and grains of freshly milled Hibiscus, whole fruit powders, Vitamin C and mineral rich clays work in perfect synergy to provide just the right amount of exfoliation and deep cleansing that doesn't strip or damage skin.
Let's Get Nerdy: Genuine silver effectively treats and prevents inflammation while raw cocoa and coconut milk powder deliver powerful nutrients and antioxidants. The way of application can be adjusted to your very current needs which makes it one of our most versatile products regardless of skin type and condition.
Size: 50ml
Out of stock
About the Brand

Namari was created by Nadine Ammari

How to Use

To exfoliate: 2-3 times a week, blend one teaspoon of the powder with droplets of water to a creamy mousse. Apply to damp skin with gentle, circular movements. Rinse and finish off with a hot compress. Follow with your preferred toner, serum & moisturizer.

As a mask: 1-2 times per week blend two teaspoons of the powder with equal parts of water to a creamy mousse. Apply to freshly cleansed skin, relax and allow to dry completely. Rinse and finish off with a hot compress. Follow with your preferred toner, serum & moisturizer.

Bonus: To use as a non-mechanical exfoliant, apply a thin layer of the mousse onto your wet face and neck with the palms of your hands, let it sit for about ten minutes and rinse clear. Combine with a facial steam for even better results.

Expect a slightly tingling sensation as well as a temporary redness due to the active ingredients.

Ingredients

Marrocan Lava (Rhassoul) Clay, Kaolin (Pink Clay), *Ananas Sativus (Pineapple) Whole Fruit Powder, Ascorbic Acid (Vitamin C), *Hibiscus Rosa Sinensis Linn (Hibiscus), *Cocos nucifera (Coconut) Milk Powder, *Rubus Idaeus (Red Raspberry) Whole Fruit Powder, *Vaccinium Angustifolium (Blueberry) Whole Fruit Powder, Dimethyl Sulfone (Sulfur), *Cinnamomum Zeylanicum (Cinnamon), Sodium Bicarbonate, *Theobroma Cacao (Cocoa) Powder, *Chlorella Vulgaris (Chlorella Algae), +Argentum metallicum (Silver)

*Certified Organic
+Fair trade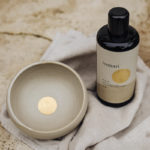 Staub Multi-Exfoliant & Mask