Sungod Face Mask
September 7, 2021
EARTHWISE BEAUTY
Free U.S. Shipping, No MinimumSubscribers Save 15% In Our Retail Shops Every Day!
What is it? Sungod mask nurtures with sun-reminiscent and historically sun-associative botanicals (those with a correspondence to the third chakra in the body, the solar plexus), from sunflowers and calendulas to wildflower pollen and turmeric root, and it includes hard-studied reparative plants (maitake and shiitake mushrooms, flower pollen, and goldenseal).
Notes from the Curator: Sungod is a soft powder mask designed to gradually yet significantly improve the skin over time. With regular use it helps reduce signs of aging and heal scars, eczema, psoriasis, and discolorations.
Let's get Nerdy: This soft flower-dust of a mask rebuilds skin tissue that is compromised, damaged from environmental factors, sensitized, or unhealthy. The extraordinary range of nutrients in Sungod comes from roots, mushrooms, adaptogenic herbs, leaves, flowers, fruits, seeds, and mineral-rich Celtic salt.
Size: 30g
Out of stock
Join The Waitlist
We will inform you when the product is back in stock. Please leave your valid email address below.
About the Brand

Earthwise Beauty was created by Ava Zhan Ava grew in Poland and moved to the U.S. and worked as an editor for a major U.S. publisher. She felt compelled to make and share her love of natural ingredients and skincare crafted from medicinal plants, that felt more satisfying to her than the skincare she found in stores. And so Earthwise was born. Using Ava's products feels like walking deep into lush living forests.

How to Use

Measure out 1/2 to 1 teaspoon of the powder into a ceramic bowl and mix with a tiny amount of warm water to achieve a paste. Use your fingers to apply the paste in a thin, even layer onto washed, towel-dried skin, leave on for 10 to 30 minutes (mist periodically during rest time to prevent the mask from hardening, if you like), then rinse off. The mask can be used as often as desired.

Excellent as an in-the-shower mask, too. Add 1 to 4 drops of a facial oil or oil-based serum to the paste for a more nurturing treatment. Or add a bit of raw organic honey for an overall beautifying effect, or both the oil and the honey. Replace the warm water with a hydrosol of your choice or our Cistus and Moonlight Face Mist. Avoid inhaling the powder.

Ingredients

Wildflower pollen, Solum fullonum (multani mitti, fuller's earth) clay†, Calendula officinalis (marigold) flower petals (organic or *), Aloe barbadensis leaf*, Helianthus annuus (sunflower) petals (organic or *), Plukenetia volubilis (sacha inchi) seed*, Hydrastis Canadensis (goldenseal) rhizome (responsibly wildcrafted or *), Symphytum officinale (comfrey) leaf (wildcrafted or *), Punica granatum (pomegranate) fruit juice*, Grifola frondosa (maitake) mushroom (organic or *), Curcuma longa (turmeric) rhizome*, Withania somnifera (ashwagandha) root (organic or *), Lentinula edodes (shiitake) mushroom (organic or *), Celtic salt (France)†**.

*Certified organic. †Responsibly wildcrafted.

** Nature et Progres certified.

Certified cruelty free, handcrafted, small batch. Contains humanely gathered wildflower pollen collected by bees. Gluten free.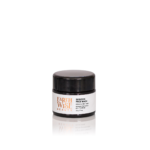 Out of stock
Join The Waitlist
We will inform you when the product is back in stock. Please leave your valid email address below.