The Black Lizard And The Beast In The Shadows
February 19, 2021
EDOGAWA RAMPO
The Black Lizard And The Beast In The Shadows
$16.00 $
"Two Golden Age classics from Japan's grand master of mystery. Edogawa Rampo (pseudonym of Hirai Taro, 1894-1965) is the acknowledged grand master of Japan's golden age of crime and mystery fiction.
'The Black Lizard '(Kurotokage) first appeared as a magazine serial, published in twelve monthly installments between January and December, 1934. It features Rampo's main detective character, Akechi Kogorō: a figure who combines elements of Poe's Auguste Dupin with the gentleman adventurers of British golden age detective literature. The Black Lizard herself is a master criminal and femme fatale, whose charged relationship with detective Akechi and unconcealed sadism have inspired shuddering admiration in generations of readers. The story has been adapted for film and television several times.
Themes of deviance and sado-masochism are central to 'Beast in the Shadows' (Inju), a tale from the height of Rampo's grotesque period, which appeared in serial form between August and October, 1928. This tale of secret identities, violent sexuality, and dark crimes stands in stark contrast to the genteel detective stories then popular in English literature. It bears comparison with the American pulp fiction serial, the genre that led to the classic modern American crime novel, and with the more extravagant moments of film noir. 'Beast in the Shadows', however, recalls classic themes in Japanese popular fiction, with origins in the illustrated novels and mass market shockers of the Edo period (1600-1868). Rampo's special contribution was to combine this strain in Japanese literature with styles and atmospheres imported from Europe: from Oscar Wilde and Maurice Maeterlinck, to Rampo's own contemporaries in the American pulps and English novels.
"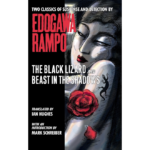 The Black Lizard And The Beast In The Shadows