You cannot add "The Food Box : Edible Flowers" to the cart because the product is out of stock.
The Food Box : Edible Flowers
June 8, 2022
The Food Box : Edible Flowers
$99.00 $
Free U.S. Shipping, No MinimumSubscribers Save 15% In Our Retail Shops Every Day!
We are thrilled to launch our seasonal Food Boxes! These specially curated Food Boxes showcase the most exciting artisanal Food brands, making delightful things for Food Lovers. This Fall and Winter, in our Edible Flowers Box, we are sending you Flowers: to eat, drink, and even smoke!
Please Note: Orders placed by November 28, will be shipped in the week of November 29. Orders placed after November 29, will be shipped around December 15. This is a limited-edition box – once sold out, it's gone!
Each Food Box will include the following:
A pair of Loria's flower cookies
Aesthete Love Potion Tea
East Fork Juice Cup in Fiddlehead
Diaspora Kandyan Cloves
Raaka Rose Cardamom Chocolate
Anima Mundi Sacred Smoke blend
Redheaded Stranger Rolling papers
Grist & Toll Sonora Flour featuring Ramona Farms wheat.
Access to Sharon Brenner's Pie Project
You can find more information about each of these thoughtful, beautiful brands below.
US SHIPPING ONLY!
Out of stock
Join The Waitlist
We will inform you when the product is back in stock. Please leave your valid email address below.
About the Brands

Loria's Cookies: Artist Baker Loria Stern makes exquisite cookies with pressed flowers and herbs sourced from her own flower garden in Los Angeles as well as from local farmers whom she works closely with. Edible art.

Aesthete Tea: Aesthete is a QBIPOC Woman-owned brand created by Briana Thornton in Portland, along with her herbalist mother Maggie Cassidy. While they formulate delightful teas, their aim goes beyond tea, aiming at creating a collective that embraces and shares healing traditional practices from a variety of cultures.

East Fork: Founded by Alex and Connie Matisse, and John Vigeland, East fork makes some of our favorite vessels to eat from. They design and manufacture their beautiful thoughtful ceramic dishware in Asheville, North Carolina.

Diaspora: Sana Javeri Kadri created Diaspora to change the way spices from the Indian subcontinent were bought, sold, and experienced. She aims to deepen (and complicate) what 'Made in South Asia' means while building community through food.

Raaka: Raaka crafts unroasted dark chocolate from scratch with impeccably sourced and transparently traded single-origin cacao. This is then fashioned into the most delicious bars of chocolate for us to enjoy.

Anima Mundi: Herbalist and Costa Rica native Adriana Ayeles initially founded Anima Mundi to showcase ancient traditional remedies from Central and South America. She now features in her apothecary several traditions from around the world.

Red Headed Stranger: East Nashville Chef Bryan Lee Weaver created Red Headed Stranger Taco Joint (named after the Willie Nelson Album) to showcase the Southwestern food of his childhood.

Grist & Toll: The folks at Grist & Toll are bakers obsessed with Flour, sourcing and curating some of the best grain, and freshly milling them into flour in their authentic stone mill. They source grain from several farms including Ramona Farms.

Ramona Farms: Ramona Farms is a Native American business owned by Ramona Button. Their farm is on the Gila River Indian Reservation, near Sacaton, Arizona. Through her products, Ramona aims to share the food traditions of her tribe: Akimel O'Odham community. She says: "My people have lived and farmed in this desert region for centuries. I am happy to be able to invite you to try the foods from my farm and from my tradition."

Pie Project: The Pie Project is a digital recipe site created by food writer and home cook Sharon Brenner to teach people the nuances of making Greek Pie from scratch. Sharon also runs Athena Dinners, an Athenian-inspired Greek dinner series.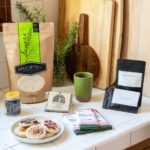 The Food Box : Edible Flowers
Out of stock
Join The Waitlist
We will inform you when the product is back in stock. Please leave your valid email address below.