The Gentleman From San Francisco And Other Stories
February 19, 2021
IVAN BUNIN
The Gentleman From San Francisco And Other Stories
$16.00 $
Free U.S. Shipping, No MinimumSubscribers Save 15% In Our Retail Shops Every Day!
Powerful, evocative stories from the first Russian author to win the Nobel Prize in Literature.
Drawing artistic inspiration from his personal experience, these stories are set in the late nineteenth – and early twentieth -century Russia of his youth, in the countries that he visited and in France, where he spent the last thirty years of his life.
In the title story, a family's tour of fashionable European resorts comes to an unexpected end; 'Late Hour' describes an old man's return to the little Russian town in the steppes that he has not seen since his early youth; and 'Mitya's Love' explores the darker emotional reverberations of sexual experience. Throughout his stories, there is a sense of the precariousness of existence, an omnipresent awareness of the impermanence of human aspirations and achievements.
A much neglected literary figure, Ivan Bunin is one of Russia's major writers and ranks with Tolstoy and Chekhov at the forefront of the Russian Realists.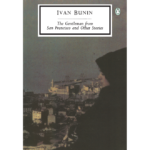 The Gentleman From San Francisco And Other Stories