The Gulag Archipelago: The Authorized Abridgement
February 19, 2021
ALEXANDER SOLZHENITSYN
The Gulag Archipelago: The Authorized Abridgement
$16.00 $
Free U.S. Shipping, No MinimumSubscribers Save 15% In Our Retail Shops Every Day!
The Gulag Archipelago is Aleksandr Solzhenitsyn's grand masterwork and winner of The Nobel Prize In Literature 1970.
A vast canvas of camps, prisons, transit centres and secret police, of informers and spies and interrogators but also of everyday heroism, 'The Gulag Archipelago' is Aleksandr Solzhenitsyn's grand masterwork. Based on the testimony of some 200 survivors, and on the recollection of Solzhenitsyn's own eleven years in labour camps and exile, it chronicles the story of those at the heart of the Soviet Union who opposed Stalin, and for whom the key to survival lay not in hope but in despair.
A thoroughly researched document and a feat of literary and imaginative power, this edition of The Gulag Archipelago was abridged into one volume at the author's wish and with his full co-operation.
---
About the Author – Aleksandr Solzhenitsyn
Alexander Solzhenitsyn was born in 1918, a year after the Bolsheviks stormed to power throughout Russia. He studied at the University of Rostov and served with distinction in the Russian Army during World War II. In 1945, he was arrested and imprisoned in a labor camp because he had allegedly made a derogatory remark about Stalin.
After serving as a decorated captain in the Soviet Army during World War II, Aleksandr I. Solzhenitsyn (1918-2008) was sentenced to prison for eight years for criticizing Stalin and the Soviet government in private letters. Solzhenitsyn vaulted from unknown schoolteacher to internationally famous writer in 1962 with the publication of his novella One Day in the Life of Ivan Denisovich; he was awarded the Nobel Prize in Literature in 1968. The writer's increasingly vocal opposition to the regime resulted in another arrest, a charge of treason, and expulsion from the USSR in 1974, the year The Gulag Archipelago, his epic history of the Soviet prison system, first appeared in the West. For eighteen years, he and his family lived in Vermont. In 1994 he returned to Russia. Aleksandr Solzhenitsyn died at his home in Moscow in 2008.
Description

The Gulag Archipelago Abridged is the Nobel Prize winner's towering masterpiece of world literature, the searing record of four decades of terror & oppression,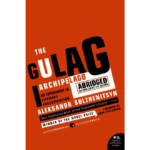 The Gulag Archipelago: The Authorized Abridgement