The Little Woman Wanted Noise
February 19, 2021
VAL TEAL (AUTHOR), ROBERT LAWS
The Little Woman Wanted Noise
$16.00 $
Subscribers Save 15% In Our Retail Shops Every Day!
CLANG! THUMP! WHOOSH! BANG! The big city is a noisy place.
But the little woman doesn't mind, the big city is her home. Then one day she is given a wonderful gift, a "pleasant, peaceful farm" in the country. The farm is nearly perfect—only with all the quiet, the little woman can't relax.
So she buys a cow, she buys a dog, a cat and a duck, a rooster, a pig. Now the farm is noisy indeed. Still, something's missing. She decides to return to the city for that one special thing she knows will make her farm feel just like home. And by the end of her tale the little woman is happy to find that even though she has no rest, she has peace of mind.
Published seven years after 'The Story of Ferdinand', 'The Little Woman Wanted Noise' shows Robert Lawson at the peak of his talent and contains some of the most stunning and innovative black-and-white drawings in all of American picture-book history. They are the joyous accompaniment to Val Teal's story, which reminds us that a life without a little chaos is no life at all.
Age 3 – 7 years
Description

The Little Woman Wanted Noise is an older story that is similar to Too Much Noise. In this story, a little old lady lives in a very noisy building in a city.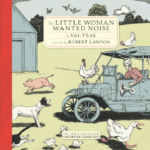 The Little Woman Wanted Noise