The Refresh Mint – Exfoliating Moisture Mask
October 9, 2023
MAYA CHIA
The Refresh Mint – Exfoliating Moisture Mask
$68.00 $
Free U.S. Shipping, No MinimumSubscribers Save 15% In Our Retail Shops Every Day!
Maya Chia The Refresh Mint – Exfoliating Moisture Mask
What is it? The Refresh Mint – Exfoliating Moisture Mask is a concentrated, innovative formula that works gently – yet effectively – to transform the appearance of a lackluster complexion into glowing, radiant and more nourished-looking skin.
Notes From The Curator: The magic behind the brilliant minty-blue mask is a combination of four different types of acids, as well as enzymes and hydrators, which synergistically work together to help to resurface, brighten and hydrate the skin's appearance.
Let's Get Nerdy: It will be a breath of fresh air for your skin – or as it is called The Refresh Mint. It offers a host of skin-loving ingredients including:
Azelaic acid (improves brightness and skin tone, reduces redness, reduces fine lines and wrinkles, improves texture and clarity)
Lactic acid (also improves brightness, induces glow and reduces the appearance of pores)
Salicylic Acid from wintergreen extract (clarifies and refines the look of pores)
Pumpkin and pineapple enzymes (to gently exfoliate, soothe and soften)
Chia seed extract, Hyaluronic acid, Sodium PCA (to deeply nourish and moisturize the skin.
Size: 50 ml/ 1.7 fl oz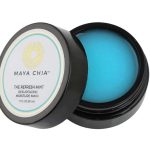 The Refresh Mint - Exfoliating Moisture Mask