The Stranger by Albert Camus
February 19, 2021
ALBERT CAMUS
The Stranger by Albert Camus
$15.00 $
Free U.S. Shipping, No MinimumSubscribers Save 15% In Our Retail Shops Every Day!
Winner of The Nobel Prize® In Literature in 1957.
With the excitement of a perfectly executed thriller and the force of a parable, 'The Stranger' is the work of one of the most engaged and intellectually alert writers of the past century.
Albert Camus' spare, laconic masterpiece about a murder in Algeria is famous for having diagnosed, with an almost scientific clarity, that condition of reckless alienation and spiritual exhaustion that characterized so much of twentieth-century life.
Born in Algeria in 1913, Albert Camus published 'The Stranger'—now one of the most widely read novels of this century—in 1942.
Description

Winner of The Nobel Prize In Literature in 1957 'The Stranger' is the work of one of the most engaged & intellectually alert writers Albert Camus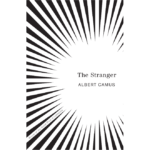 The Stranger by Albert Camus