The Super Lift Vitamin C More Treatment
January 21, 2022
MAYA CHIA
The Super Lift Vitamin C More Treatment
$110.00 $
Subscribers Save 15% In Our Retail Shops Every Day!
Maya Chia The Super Lift Vitamin C More Treatment
What is it? The Super Lift Vitamin C serum is an advanced, high-tech, concentrated, patent-pending formulation that deploys three types of shelf-stable bio-available Vitamin C, Tranexamic Acid, Ferulic Acid Esters (plant source), Niacinamide, Peptides and Stem Cells to brighten the skin tone at the same smoothing the appearance of fine lines and wrinkles to restore a more revitalized, brightened appearance.
Notes from the Curator: Maya Chia Vitamin C serum is effective, yet gentle, it can be used on all skin types, even the most sensitive.
Let's Get Nerdy: This unique cocktail diminishes the look of fine lines, and wrinkles immediately (with a temporary tightening/smoothing effect) and also works in the long-term, creating a more radiant, even-textured and toned surface. The ultra-lightweight proprietary formula deeply penetrates the skin and rapidly absorbs. As an added bonus, the treatment acts as a primer – with ingredients clinically proven to help your makeup last longer. It only has a minimal percentage of essential oil, so would work for those sensitive to fragrance.
Size: 30ml / 1 oz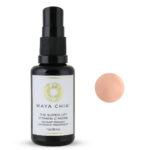 The Super Lift Vitamin C More Treatment