The Unbearable Lightness Of Being
February 19, 2021
MILAN KUNDERA
The Unbearable Lightness Of Being
$16.00 $
Free U.S. Shipping, No MinimumSubscribers Save 15% In Our Retail Shops Every Day!
The Unbearable Lightness of Being
In 'The Unbearable Lightness of Being', Milan Kundera tells the story of a young woman in love with a successful surgeon – a man torn between his love for her and his incorrigible womanising. His mistress, a free-spirited artist, lives her life as a series of betrayals – while her other lover stands to lose everything because of his noble qualities.
In a world where lives are shaped by irrevocable choices and fortuitous events, and everything occurs but once, existence seems to lose its substance and weight -and we feel 'the unbearable lightness of being'.
This magnificent novel juxtaposes geographically distant places; brilliant and playful reflections; and a variety of styles to take its place as perhaps the major achievement of one of the world's truly great writers.
Description

The Unbearable Lightness of Being is a 1984 novel about two women, two men, a dog, and their lives in the 1968 Prague Spring period of Czechoslovak history.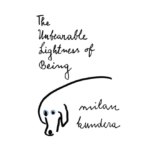 The Unbearable Lightness Of Being