There Once Lived A Mother Who Loved Her Children Until They Moved Back In: Three Novellas About Family
February 19, 2021
LUDMILLA PETRUSHEVSKAYA
There Once Lived A Mother Who Loved Her Children Until They Moved Back In: Three Novellas About Family
$17.00 $
Subscribers Save 15% In Our Retail Shops Every Day!
After her work was suppressed for many years, Ludmilla Petrushevskaya won wide recognition for capturing the experiences of everyday Russians with profound pathos and mordant wit.
Among her most famous and controversial works, these three novellas—'The Time Is Night,' 'Chocolates with Liqueur' (inspired by Edgar Allan Poe's "The Cask of Amontillado"), and 'Among Friends'—are modern classics that breathe new life into Tolstoy's famous dictum, "All happy families are alike; every unhappy family is unhappy in its own way." Together they confirm the genius of an author with a gift for turning adversity into art.
In 2002 she received Russia's most prestigious prize, the Triumph, for lifetime achievement.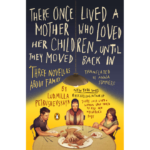 There Once Lived A Mother Who Loved Her Children Until They Moved Back In: Three Novellas About Family