Thorn Oil Priming Facial Elixir
February 23, 2022
RITUEL DE FILLE
Thorn Oil Priming Facial Elixir
$68.00 $
Thorn Oil Priming Facial Elixir is an extraordinary vegan facial oil which appears in the bottle as a blood red, in the dropper as a soft blush, and on the skin as entirely colorless. Thorn Oil is absolutely beautiful on its own, but its interplay with the skin is even more extraordinary. Formulated with opulent, skin-loving ingredients to impart moisture and glow without leaving shine after absorption. As a makeup priming oil, it creates the perfect base for flawless finish! After gently massaging in, the color miraculously vanishes–leaving a new radiance. The effect is natural but unmistakable.
Thorn Oil is the perfect makeup priming oil. Thorn Oil was carefully formulated as the perfect base for your makeup application, and including it in your process is utterly transformative. Drawing out a lit-from-within effect, it imparts moisture and glow without leaving shine after absorption. Your colors will glide on effortlessly, and wear like part of your skin.
Thorn Oil is the finest skincare. Whether for makeup or makeup-free days, Thorn Oil cares for your canvas. Made from a blend of exquisite ingredients, it harmonizes with your skin to create a beautifully healthy, plumped and luminous finish.
Thorn Oil is for all skin types. Carefully balanced blend of organic oils, this vegan facial oil achieves the extraordinary: it provides gentle moisture for dry skin, and balances oily and combination skin.
Named for the thorns of a rose, Thorn Oil Priming Facial Elixir is blended from two parts of the plant—the flower and the fruit—along with carefully selected, perfectly balanced, opulent organic ingredients. Thorn Oil Priming Facial Elixir is a vegan product.
Size: 1.0 fl oz / 30ml
ABOUT THE BRAND

Rituel de Fille was founded by three sisters who were inspired by the magical side of natural ingredients, and the ritualistic, ceremonial power of pigment. As accomplished artists, all three bring a unique vision to colors and imagery

HOW TO USE

Apply 5-10 drops to the cleansed skin of the face, neck and décolletage morning and night. Massage in and allow to absorb to prepare for makeup application. Store in a cool, dark, dry place away from direct sunlight. If the sanguine color begins to settle, this is natural—just shake well to unify. For external use only.

Recommended for: All skin types. Those with very dry skin may wish to apply at the higher end of the recommended drops.

Thorn Oil Priming Facial Elixir is an oil-based product, and therefore works best as a primer for oil-based makeup. May be applied over water-based skincare.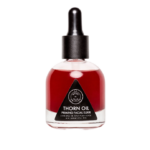 Thorn Oil Priming Facial Elixir