Three Roses Deep Sweet Rose Mist
September 7, 2021
EARTHWISE BEAUTY
Three Roses Deep Sweet Rose Mist
$74.00 $
Free U.S. Shipping, No MinimumSubscribers Save 15% In Our Retail Shops Every Day!
What is it? Rose water is one of the most beloved skincare products of all time. This swoon-worthy version contains botanical waters from Turkish and Iranian roses, resulting in a vibrant, multilayered, 100 percent natural rose scent.
Notes from the Curator: The key ingredient in Three Roses is a rose extract from Turkey. When creating this product, Ava was inspired by the oral tradition of Turkish fairly tales from thousands of years ago, fairy tales that are still told and retold in Turkey today. The tales abound in adventures in pursuit of eternal love and of happiness.
Let's get Nerdy: The rose essential oil, the most expensive essential oil in the world, is known for its many topical skin benefits and has a quickly dissipating scent. The absolute adds scent depth and complexity and has been studied for antidepressant properties. Rose extracts have been proven in many studies to be highly antioxidant, antimicrobial (particularly antifungal), anti-inflammatory, and analgesic, and they are also astringent. The wild rose flower essence adds an element of vibrational healing: Wild rose essence is used to assuage grief and disappointment in love.
Size: 100ml
Out of stock
Join The Waitlist
We will inform you when the product is back in stock. Please leave your valid email address below.
About the Brand

Earthwise Beauty was created by Ava Zhan Ava grew in Poland and moved to the U.S. and worked as an editor for a major U.S. publisher. She felt compelled to make and share her love of natural ingredients and skincare crafted from medicinal plants, that felt more satisfying to her than the skincare she found in stores. And so Earthwise was born. Using Ava's products feels like walking deep into lush living forests.

How to Use

Mist over freshly cleansed skin morning and night, then follow with your moisturizer of choice. If you would like to attune to the vibrational healing elements from the wild rose flower essence, spray above your head 3 to 4 times a day and meditate for a moment, if time allows. Shake periodically to remix.

Ingredients

Rosa damascena (Turkey) water/aqua, Rosa damascena (Iran) water/aqua, Aloe barbadensis juice*, colloidal silver, ferulic acid, resveratrol, brandy, Rosa woodsii (Wood's rose) flower essence†.

*Certified organic.

†Responsibly wildcrafted.

Certified cruelty free, vegan, handcrafted, small batch. Gluten free.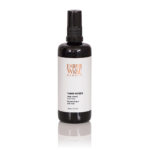 Three Roses Deep Sweet Rose Mist
Out of stock
Join The Waitlist
We will inform you when the product is back in stock. Please leave your valid email address below.