Veil Of Rest Vitamin C Recovery Serum
February 17, 2021
ARCANA
Veil Of Rest Vitamin C Recovery Serum
$84.00 $
What is it? Veil of Rest is a nutrient rich oil serum designed to revitalize dry and depleted skin.
Notes from the Curator: It is made in a base of cold presssed fruit oils like Blueberry, Strawberry and Plum seed oilss, along with polyphenol rich herbs and a stable Vitamin C ester.
Let's Get Nerdy: Veil of Rest contains Peach leaf that is a forgotten but incredibly useful herb from Appalachian folk medicine that soothes dry, flaky, and aggravated skin conditions. Mullein, Calendula, and Wild Pansy work synergistically through their high-polysaccharide content to nourish and moisturise skin, supporting skin's innate capacity to produce collagen and hyaluronic acid.
About the Brand

Arcana was created by Erin Hammond, a historian, as an exploration into the mysteries of plants. Says Erin, "Arcana is a gesture of modern ritual with a historical perspective". The choices of ingredients in Arcana's exquisite products are informed by the biodiversity of the places that have shaped Erin and her partner Glen: Scotland and Southern Appalachia.

How to Use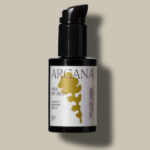 Veil Of Rest Vitamin C Recovery Serum