Infusion Micro Liquid Serum
February 17, 2021
AFRICAN BOTANICS
Infusion Micro Liquid Serum
$200.00 $
Free U.S. Shipping, No MinimumSubscribers Save 15% In Our Retail Shops Every Day!
What is it? African Botanics Infusion Micro-Liquid Serum is a toner, essence and, serum rolled into one and is designed to adddress a host of skin concerns.
Notes from the Curator: A beautiful essence that we love as the first step after cleansing, it improves moisture retention, radiance and firmness of the skin, in addition to balancing its pH.
Let's get Nerdy: With the silky texture of an essence and the multi-tasking benefits of a serum, Infusion saturates skin with Kalahari Desert Salt, hand harvested plants, Vitamin C, CoQ10, Willow Bark and Lactic Acid to help soothe, hydrate, brighten, rejuvenate, improve texture and help protect against environmental stress and pollution with adaptogens and antioxidants. Suitable for all skin types and climate zones. Infusion contains low molecular weight glutaminated oligopeptides obtained from White Lupine which help boost epidermal lipid synthesis and reinforce the barrier function while infusing skin with hydration. Helichrysum Stoechas Oligosaccharides help regenerate the structure of the collagen fibers.
Infusion is driven by an age defying regenerating matrix of molecular and biotech actives: Immortelle oligosaccharides, 2 types of Micro-Algae, Seaweed, anti-pollution oceanic cell shields, moisture-binding peptides and Marine Glucans to improve texture, deeply revitalize skin and form a dynamic skin barrier.
Size: 100ml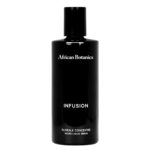 Infusion Micro Liquid Serum