Resurrection Cell Recovery Serum
February 17, 2021
AFRICAN BOTANICS
Resurrection Cell Recovery Serum
$160.00 $
Subscribers Save 15% In Our Retail Shops Every Day!
What is it? Resurrection Cell Recovery Serum is a retinol infused night serum with a gel texture.
Notes from the Curator: The combination of an encapsulated Retinol, Resveratrol and Peptides along with the Resurrection plant extract, help smooth fine lines and wrinkles while working to hydrate, visibly firm and plump.It earned its spot in our Beauty Box.
Let's get Nerdy: The African Resurrection Plant or Myrothamnus Flabellifolius is native to Southern Africa, found in the arid mountains in Sub-Saharan Africa & known for its powerful skin regenerating, healing benefits. Julia explains, "To tolerate the extremely dry conditions of these arid mountains of South Africa, the Resurrection Plant has developed an amazing survival strategy called reviviscence. In the dry season, during the process of desiccation & apparent "death", the plant's cells produce a sugary substance known as 'Trehalose', which allows them to rehydrate & restart their activities as soon as the first rains fall. In traditional African medicine, it is used for its toning, revitalizing & soothing benefits. In our Resurrection Cell Recovery Serum, Resurrection plant prevents cell aging, thus helping to protect skin from visible harmful effects of stress."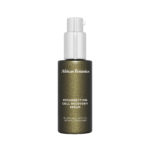 Resurrection Cell Recovery Serum