Alexander Chee Box 1 – Alejandro Varela, Zain Khalid and Blackwing602
October 28, 2022
Alexander Chee Box 1 – Alejandro Varela, Zain Khalid and Blackwing602
$44.95 $
Free U.S. Shipping, No MinimumSubscribers Save 15% In Our Retail Shops Every Day!
Please Note This Is A Limited Edition One-Time Box. For Alexander Chee Subscription Box please visit here
Welcome to our American Fiction Series with Alexander Chee: On Becoming an American Writer. Curated by novelist, essayist, editor, teacher, and generous champion of other writers, Alexander Chee.
"This country is in an argument over what it means to even belong here. And meanwhile, there are some fascinating new novels & story collections emerging month by month, a literature like we've never had, alongside editors & houses reaching back for the writers left behind, older writers, some living, some dead. The result is a reimagining of our literary landscape that we risk missing if we don't really look." – Alexander Chee.
Each Box will feature two books and a bookish gift chosen by Alexander Chee. In addition to our insert, the box will also include a special letter from Alex about the books: the context, why he chose the books, what is special about them as well as other notes to add to the pleasure of reading them.
Here's what's in the Box 1:
Alejandro Varela The Town of Babylon
Zain Khalid Brother Alive
Blackwing Slate notebook (ruled) with Blackwing Matte pencil.
US SHIPPING ONLY
Description

American Fiction Series with Alexander Chee Box 1 features Alejandro Varela The Town of Babylon, Zain Khalid Brother Alive, Blackwing 602 Pencil & Blackwing Notebook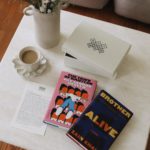 Alexander Chee Box 1 - Alejandro Varela, Zain Khalid and Blackwing602