Apica Premium C.D. Notebook B5 Blank Black
February 19, 2021
APICA
Apica Premium C.D. Notebook B5 Blank Black
$21.00 $
Subscribers Save 15% In Our Retail Shops Every Day!
Apica Premium C.D. Notebooks
As you open your new notebook to the first page, you are amazed at how impeccably smooth the paper feels under your fingertips. It almost seems too perfect to write on. But, you remember that you wanted this special notebook to be the keeper of your thoughts and observations, so you uncap your favorite fountain pen and start writing today's entry. Your pen glides effortlessly across the paper and your lines are beautifully solid. As you finish, you already start looking forward to tomorrow's writing session.
The Premium C.D. Notebook gives you the richness and luxury of silk in a notebook format. It contains Apica's ultra-smooth "A.Silky 865 Premium" paper, which lets your pens write as if gliding on air. Apica obsessively fine-tuned not only the paper, but every detail of this notebook to satisfy the most picky of notebook users. Designed for gentlemen and ladies who seek sophistication, the notebook has a thick paper cover beautifully printed with scroll patterns and the silver embossed notebook name. The thread binding is an additional classic touch and allows the notebook to lay open. Accent threads, which can be glimpsed inside the notebook, match the cover color. Enjoy these elegant details and effortless writing experience with this premium-quality notebook.
This is the B5 Plain notebook.
The notebook contains 96 blank sheets and is slightly larger than the standard B5 size.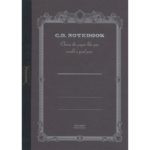 Apica Premium C.D. Notebook B5 Blank Black