Arborealist Scented Candle
November 22, 2021
VERDEN
Arborealist Scented Candle
$80.00 $
Free U.S. Shipping, No MinimumSubscribers Save 15% In Our Retail Shops Every Day!
Burn this candle to infuse your space with Arborealist: an intense and moody blend of woods and smoky greens.
Vegetable wax candle with lead-free wick. Burn time 40 hours.
220g – 7.8 oz
About the Brand

Meaning 'the world' or 'the earth' in Danish, VERDEN is a natural fragrance brand for bath, body and home. VERDEN was founded by Charlotte Semler and Arabella Preston – the team behind VOTARY Skincare. VERDEN is inspired by the focal role of nature in Charlotte's Danish childhood memories. Charlotte returned to her childhood beach house after decades away and realised that it was the immersion in unchanging nature – water, landscape and fragrance, as much as the endless summer light – that brought her back to happiness. VERDEN roots itself in natural fragrance to reconnect you with happiness in every moment of self-care.

VERDEN captures joyful nature, emotions and memories in fragrance and wellness. Reconnect with happiness: Breathe and begin again.

How to Use

Ingredients

Lead free wick. Rapeseed & Coconut Natural Wax, Parfum (Natural Fragrance). Made from rapeseed oil and coconut oil and nothing else, completely free from paraffin, soy, palm, beeswax and synthetic additives.

Contains Citral, Eucalyptol, Geraniol, Geranyl acetate, Longifolene, Menthone, alpha-Pinene, beta-Caryophyllene, beta-Pinene, d,l-Isomenthone, d-Limonene, dl-Citronellol.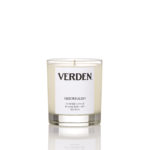 Arborealist Scented Candle