Bakuchiol & Pomegranate Facial Oil
April 25, 2023
ANOKHA
Bakuchiol & Pomegranate Facial Oil
$142.00 $
Subscribers Save 15% In Our Retail Shops Every Day!
Anokha Bakuchiol & Pomegranate Facial Oil
What is it? Bakuchiol & Pomegranate Facial Oil is a luxurious facial oil that winds back wrinkles, with natural retinol alternative bakuchiol. It's skin's very own time machine.
Notes From the Curator: It helps reduce the appearance of fine lines, hyperpigmentation, acne and gently assists in brightening and evening skin tone.
Let's Get Nerdy: Bakuchiol – all the benefits of retinol, none of the red, flaky, side effects. this botanical beauty is the secret for naturally clearer, smoother skin.
Sea Buckthorn Seed Oil – contains essential fatty acids and vitamin e to improve skin metabolism, soothe irritation, and slow down maturation.
Rosehip Seed Oil – helps maintain skin's elasticity, reduces the appearance of fine lines and wrinkles, and helps reverse damage from photo-aging. hello bright, bouncy skin.
Bisabolol – anti-inflammatory to accelerate the healing process of skin. also helps with the absorption of other active ingredients, making it bakuchiol's biggest fan (second to us).
CoEnzymeQ10 – an antioxidant that helps maintain skin integrity, while stimulating the production of collagen and elastin.
Size: 30 ml/ 1 oz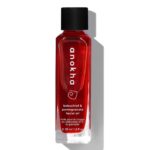 Bakuchiol & Pomegranate Facial Oil