Beauty Masquerade Clay Mask
October 20, 2023
FLOWER AND SPICE
Beauty Masquerade Clay Mask
$130.00 $
Free U.S. Shipping, No MinimumSubscribers Save 15% In Our Retail Shops Every Day!
FLOWERSPICE Deep Detox- Beauty Masquerade
What is it? Deep Detox- Beauty Masquerade lifts the senses and gently removes impurities, revealing a glowing complexion. It detoxifies and smoothes the skin surface, reduces inflammation and brightens the skin.
Notes From The Curator: With a blend of mild yet highly effective clays, flowers and spices, this mask lifts the senses with an intoxicating aroma of citrus and spice and gently removes blackheads and impurities, revealing a complexion aglow with restored balance.
Let's Get Nerdy: Lemon mint essential oil makes you feel energized and reduces anxiety and depression.
Rosemary essential oil reduces stress levels and nervous tension, boosts mental activity, encourages clarity and insight, relieves fatigue, and supports respiratory function. In addition, it is used to improve alertness, eliminate negative moods, and increase the retention of information by enhancing concentration.
Black pepper essential oil eases anxiety and can help soothe tightened emotions.
Lemongrass essential oil helps reduce anxiety, relieve stress, and fight depression. It fights negative feelings, eliminates mental fatigue, and refreshes you. Lemongrass is thought to be stimulating and cleansing, uplifting and energising.
Anti-inflammatory turmeric root reduces redness, calming blemishes, and skin upset as it brightens the dark spots that come from sun damage.
Rhassoul clay detoxifies pores without drying skin as white kaolin clay whisks away dullness, leaving even sensitive skin petal-soft and smooth.
Size: 100 ml/ 65 g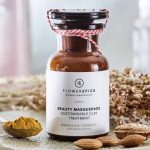 Beauty Masquerade Clay Mask