Cashmere Opera Stole in Crimson
September 27, 2021
KASHMIR LOOM
Cashmere Opera Stole in Crimson
$180.00 $
Subscribers Save 15% In Our Retail Shops Every Day!
Description: These are 100% cashmere stoles. The ends are finished with a natural fringe. The fiber is the finest cashmere from the Changra goat, which lives in Ladakh in India. The fiber is handwoven in Kashmir into this beautiful stole. Opera, as the name suggests is a beautiful orchestration of colors in the stripes carefully blended with either the natural or ivory un-dyed cashmere. Twill weave stripe.
Notes from the curator: "Around 4 years ago, when I visited my parents in Delhi (India), I set out to find the best pashmina/cashmere shawls for myself. And I found this extraordinary company that makes the highest quality pashmina, produced in small family workshops in Srinagar in Kashmir. My sister & I spent an hour or more with one of the founders, Asaf Ali as he patiently answered all our questions. I am thrilled to share these beautiful pieces with you!"
Stole Size: 27 x 80 inches
Care and Maintenance: Dry Clean only. Warm Iron.
*Please Note:There might be a slight variation in the colors you receive and the color in the picture. The color in the picture may not match the actual stole/shawl exactly.
Description

Kashmir Loom Cashmere Opera Stole is contemporary women's Cashmere Shawls, Stoles & Scarfs that are hand woven & hand embroidered in Kashmir. 100% Pashmina.

About the Brand

Founded by Jenny Housego and Asaf Ali, together with his brothers in Srinagar, the beautiful lake capital of Kashmir, Kashmir Loom endeavors to sustain and infuse a modern soul into the woven and embroidered shawls from Kashmir Valley.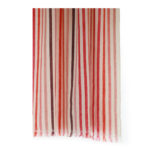 Cashmere Opera Stole in Crimson