Clary Sage & Rose Geranium Hydramist
July 16, 2023
LIVE BOTANICAL
Clary Sage & Rose Geranium Hydramist
$48.00 $
Free U.S. Shipping, No MinimumSubscribers Save 15% In Our Retail Shops Every Day!
Live Botanical Clary Sage & Rose Geranium Hydramist
What is it? Clary Sage & Rose Geranium Hydramist is a sensorial, hydrating experience to soothe the skin & spirit. A colorful and fragrant bouquet of summer flowers known to cool the skin and flush out stagnant heat within the body.
Notes From The Curator: A perfect escape during the long, hot days of summer. Dispersed as a lightweight mist that's beneficial for all skin types.
Let's Get Nerdy: Clary Sage & Rose Geranium are both known as astringents that address congested and/or inflamed skin. Their aromas have an affinity to our nervous and hormonal systems, helping to ease some of the discomfort caused by typical burdens in life.
Tamarind Seed Extract (TSE) has shown parallels with Hyaluronic Acid (HA) to effectively hydrate and visibly plump and soften. TSE is sustainably harvested and gives additional life to seeds that would otherwise be discarded. Abundant in a special class of polysaccharides (long sugar molecules) called xyoglucans. This compound binds water molecules to the skin in a gentle, bioavailable process.
Oats soothe irritated, sensitive skin and can increase moisture when paired with other humectants like TSE.
Nettles, Lemon Balm, Elder Flower, and Plantain provide a menagerie of rich nutrients and minerals including Vitamins B and C, iron, copper, manganese, silicium, phosphorus, potassium, calcium, and manganese, as well it contains bioflavonoids, saponins, phenolic and caffeic acids, alkaloids and tannins.
Wild Pansy flower essence, also called Heart's Ease, uplifts the heart and strengthens our emotional intelligence from the heaviness of the world.
Size: 100 ml/ 3.4 fl oz
LIMITED RELEASE(SEASONAL OFFERING)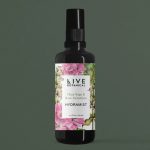 Clary Sage & Rose Geranium Hydramist