Decolletage Treatment Balm
Lavanya
March 16, 2021
YINA
Decolletage Treatment Balm
$65.00 $
What is it? The luxurious and reviatlizing treatment balm nourishes delicate skin on your neck, chest, and breasts. Rich in potent Chinese Medicinal plant extracts help to promote circulation and prevent Qi stagnation.
Notes from the Curator: Awakens the heart and mind connection. Invokes self-love. Encourages a nourishing flow of energy.
Let's Get Nerdy: Infused with nourishing botanical oils and butters, it helps to restore skin elasticity, repair damage, and keep skin firm, radiant, and luscious.
Size: 50ml
Add to Wishlist
Add to Compare
About the Brand

YINA is founded by Angela and Ervina as a vision to share wellness rituals inspired by Chinese Medicine.  It means "harmony and beauty," chosen for the beliefs that the two go hand in hand.  It also comes from the names of both founders.  YINA embodies personalized modern wellness rituals that are rooted in traditional wisdom

How to Use

Apply a small amount to the neck, chest, and breasts, and even the face when it needs extra nourishment. Massage in circular motion, paying extra attention to the breasts and underarm areas to stimulate circulation. Use daily for smooth, healthy skin and tissues. The buttery texture of the balm is ideal for facial cupping and guasha.

ENERGETICS
Awakens the heart and mind connection. Invokes self-love. Encourages a nourishing flow of energy.

Ingredients

Butyrospermum parkii (Shea) Butter*, Sesamum indicum (Sesame Seed) Oil*, Cyperus rotundus (Nut Grass) Extract, Forsythia suspensa (Golden Bell) Extract*, Spatholobus suberectus (Millettia Vine) Extract, Vaccaria segetalis (Cowherb Seed) Extract, Lycopus lucidus (Gypsywort) Extract, Arnebia euchroma (Gromwell) Extract, Ricinus communis (Castor Seed) Oil*, Theobroma grandiflorum (Cupuacu) Butter+, Astrocaryum murumuru Butter+, Citrus junos tanaka (Yuzu) Oil, Monarda fistulosa (Wild Bergamot) Oil*, Leptospermum scoparium (Manuka) Oil+, Michelia alba (Magnolia) Oil, Nelumbo nucifera (Pink Lotus) Extract, Rosmarinus officinalis (Rosemary Leaf) Extract*, Geraniol**, Linalool**.

*Organic
+ Wild-crafted
^ EcoCert compliant
**Naturally occurring in essential oils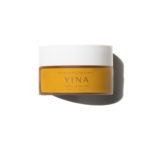 Decolletage Treatment Balm