Décolletage Treatment Balm
Lavanya
March 16, 2021
YINA
Décolletage Treatment Balm
$85.00 $
Free U.S. Shipping, No MinimumSubscribers Save 15% In Our Retail Shops Every Day!
What is it? Décolletage Treatment Balm is a luxurious and reviatlizing treatment balm that nourishes delicate skin on your neck, chest, and breasts. Rich in potent Chinese Medicinal plant extracts help to promote circulation and prevent Qi stagnation.
Notes from the Curator: Awakens the heart and mind connection. Invokes self-love. Encourages a nourishing flow of energy.
Let's Get Nerdy: Infused with nourishing botanical oils and butters, it helps to restore skin elasticity, repair damage, and keep skin firm, radiant, and luscious. An extension of your face, your décolletage starts below your jawline and includes your neck, chest and breasts. The area is more delicate, has less oil glands, and more vulnerable. Yet it's often the most neglected. The breasts hold emotional stress and stagnant energy since it's right at the heart chakra. This region is more prone to tenderness, lumps, and inflammation. The Décolletage Treatment is your friend in selfcare. Take the time each day to know your body.
East Asian Medicinal Herbs
Powerful herbs to help breakup stagnation.
Cyperus (香附) – harmonizes Qi, promotes circulation
Golden Bell (连翘)- anti-inflammatory, reduce swelling
Milletia Vine (鸡血藤)- activates smooth flow of Qi, heals skin
Size: 50ml
What To Expect:
Stimulate Circulation
Reduce Water Retention
Alleviate PMS Breast Discomfort
Improves Skin Texture and Elasticity
Awakens Heat & Mind Connection
Encourages a Nourishing Flow of Energy
Add to Wishlist
Add to Compare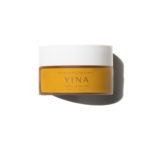 Décolletage Treatment Balm