Elemental Day Silk – 12% Non-Nano Zinc Outdoor Fluid
September 14, 2021
LEPAAR
Elemental Day Silk – 12% Non-Nano Zinc Outdoor Fluid
$55.00 $
What is it? A silky moisturising fluid that works with the Sun, not against it.
Notes from the Curator: A hint of malted grain and powdery mineral dances with warm honey and mysterious resin; Voluptuous Ylang Ylang sings of Summer night dreams and meanderings through dew dripping rain forests.
Let's Get Nerdy: Composed with strong antioxidant plant extracts, fortified with 12% non-nano, uncoated mineral Zinc and a micro dose of Ylang Ylang to help balance heat/cold elements and activate the ethereal body. Helps strengthen the skins natural defence, combat environmental stress and lock in hydration. Energetically, Ylang Ylang is cooling, clears heat from the heart, and calms the nervous system. According to the principles of Traditional Chinese Medicine, Ylang Yang regulates the Life Force and harmonises the Spirit.
Size: 30ml
This product will be shipped between December 6th and 10th
About the Brand

Johanna and Christo Everingham bring their strengths & unique world views together, to create exquisite things for their brand Lepaar. They believe in 'wholistic luxury', in creating modern classics, in crafting things that are 'alive', pulsating with stories of people and places. ​Introduced to organic cosmetic crafting by her alchemist mother, Johanna has been making her own skincare compositions for over 20 years. Christo's interest has been in the exploration of culture - his wanderings have been an exploration of the spirit in all things.

How to Use

Massage a small amount into moisturised skin. Can be worn solo or as a a primer. Be mindful that cocktailing dilutes the active Zinc content and diminishes it's potency.

Ingredients

ENERGISING FOUNDATION

Calendula Officinalis (Calendula) Flower Extract*, Vanilla Planifolia (Vanilla) Fruit Extract*, Olea Europaea (Olive) Oil**

BALANCING CENTER

Cera Alba (Beeswax)^, Orbignya Oleifera (Babassu) Seed Oil* ,12% Mineral Zinc Oxide, Vitis Vinifera (Grape) Seed Oil, Triticum Vulgare (Wheat) Germ Oil*, Emblica Officinalis (Amla) Fruit Extract*, Sesamum Indicum (Sesame) Seed Oil*, Polygonium Cuspidatum (Japanese Knotweed) Root Extract^, Silybum Marianum (Milk Thistle) Seed Oil* ,Daucus Carota (Carot) Root Extract*, Arnica Montana (Arnica) Flower Extract*, Krameria Tiandra (Rhatany) Root Extract^, Crocus Sativus (Saffron) Stigma Extract*

HARMONISING CHARGE 'SACRED TRINITY BLEND'

Frankincense Extract: Boswellia Frereana Resin^ Somalia / Boswellia Sacra Resin^,Myrrh Extract: Commiphora Myrrha Resin^ Somalia / Commiphora Wildii ('omumbiri') Resin^ ,
Frankincense Essential Oil: Boswellia Frereana* Somalia / Boswellia Sacra^ Oman / Boswellia Carteri*, Myrrh Essential Oil: Commiphora Myrrha* Somalia /commiphora Wildii ('omumbiri')^,
Cananga Odorata (Ylang Ylang) Extra Essential Oil* Madagascar. Certified Organic
24 Karat Gold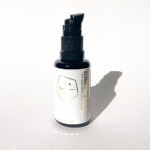 Elemental Day Silk - 12% Non-Nano Zinc Outdoor Fluid