Fleurs D'Afrique Intensive Recovery Cream
November 5, 2023
AFRICAN BOTANICS
Fleurs D'Afrique Intensive Recovery Cream
$350.00 $
Free U.S. Shipping, No MinimumSubscribers Save 15% In Our Retail Shops Every Day!
Africans Botanic Fleurs D'Afrique Intensive Recovery Cream
What is it? Fleurs' D Afrique- Intensive Recovery Cream is designed enhanced molecular and
biotech actives. The enveloping, lightweight texture and adaptogenic botanicals are boosted by age-defying ingredients: Ceramides, Detox System Ferment, and an Anti-Aging Matrix for
Regeneration.
Notes From the Curator:  The result is, fewer signs of visible aging and redefined
facial contours.
Let's Get Nerdy: The second generation of cutting-edge ingredients includes a sustainably grown
Blue Marine Micro Algae and a high concentration of plant peptides which encourage cell renewal, while plumping and protecting the complexion. Distinct African Oil Complex™ ensures immediate delivery of youth-preserving essential fatty acid matrix, and moisturizing botanicals fade and fight
the signs of aging skin: fine lines and wrinkles, blemishes, dark spots, hormonal imbalances, inflammation, redness, dryness and sagging. An infusion of nocturnal flowers from ancient
Baobab trees and hand-picked "Queen of the Night" Jasmine Grandiflorum deliver a sensorial finishing touch. Intensive Recovery Cream helps shields against inflammation, oxidation, air
pollution and dry climates, and is recommended especially for hormonal, mature, unbalanced, seborrheic and sensitive skin types.
Size: 50 ml/ 1.7 oz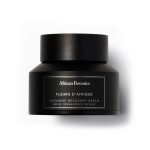 Fleurs D'Afrique Intensive Recovery Cream