Greenhouse Glow Antioxidant Mask
February 17, 2021
LIVE BOTANICAL
Greenhouse Glow Antioxidant Mask
$52.00 $
Free U.S. Shipping, No MinimumSubscribers Save 15% In Our Retail Shops Every Day!
What is it? Greenhouse Glow Antioxidant Mask is a nutrient-dense smoothie for the skin, designed to scavenge free radicals to maintain healthy skin function. A collection of colorful plants scavenge free radicals to maintain healthy skin function. The balm is activated by water to extract powerful Phyto-compounds to promote circulation, oxygenation, and remineralization which encourages an even tone, bringing the complexion back to life. Over time, it helps to improve the skin's ability to maintain moisture and improve elasticity.
Notes from the Curator: This is a balm-like mask that you mix with a water to create a creamy consistency before application. It is senstive to heat, so if it melts, place in the fridge to firm up.
Let's get Nerdy:
Cupuaçu butter is renowned for deep moisture due to its ability to hold 400% of its weight in water and provides an occlusive emollient to prevent water loss.
Nutrient-dense, cold-pressed seed oils of cranberry, raspberry and pumpkin create a range of skin-loving vitamins of A & E, carotenoids and high linoleic fatty acids to help modulate inflammation and encourage rejuvenation.
Plantain, bee balm and self-heal work collectively to stimulate skin cell generation to firm the skin and lessen scars or dark marks. Also rich in UV and pollution protectant antioxidants to strengthen the skin's response to environmental factors to skin barrier degradation.
Carefully processed for maximum potency Pumpkin seed powder is rich in a wide range of antioxidants, amino acids, omega-6, and omega-3 fatty acids and rich minerals like zinc for soothing and vitamin K for discoloration.
Oatmeal and snow mushroom contain powerful polysaccharides to help impart humectants to hydrate the deeper layers of the skin.  Blended with the oils and added water during the masking process it creates a complete moisturizer for the skin to help deliver all the powerful compounds present in the formula.
Size: 50ml
Suitable for oily, dry, combo, and sensitive types.
About the Brand

Live Botanical was founded by Carolyn McRory to share her deep herbal knowledge and the beauty and connection that nature offers, with others.Carolyn is a trained herbalist, having studied with Mara Levin and Sue Sierralupe. Her academic background in Information Systems/Computer Science & Environmental Literature adds an interesting facet to the wonderful skincare stories she tells.

How to Use

Note: Sensitive to heat. If melted, place in the fridge to firm up. It can also be left in the fridge for a cooling masking experience to further calm the skin.

In a bowl or your palm mix ½ -1 tsp balm and a sprinkling of cool water. Blend to create a cream-like consistency. Using your facial brush or fingers, apply a thick layer over the skin, including the neck. Let sit for 30 minutes. To remove, use a wet soft cloth and gently remove. Mild circulation redness is normal and will subside. Use 2 times a week or as needed.

Bonus Use: Use as a mild cleansing balm to nourish and cleanse the skin with fine particles of oatmeal & pumpkin seed.

Ingredients

71% regionally sourced

theobroma grandiflorum (cupuacu) butter#, vaccinium macrocarpon (cranberry) seed oil^ & rubus idaeus (raspberry) seed oil^ & cucurbita pepo (pumpkin) seed oil*^& plantago major (plantain) leaf*^ & monarda fistulosa (wild bergamot) flower & leaf*^ & prunella vulgaris (self-heal) flower & leaf*^, avena sativa (oat) kernel flour*^, cucurbita pepo (pumpkin) seed powder*^, smectite clay^, blue-green algae*^, sunflower lecithin*, tremella fuciformis (snow mushroom) whole fruiting body*, and essential oils of citrus aurantium bergamia (sun safe fcf bergamot)*, anthemis nobilis (roman chamomile)*^ and geranium macrorrhizum (zdravetz)*

*organic | ^regionally sourced | #fair trade/co-op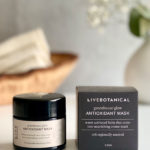 Greenhouse Glow Antioxidant Mask