Harmony Rose Serum | Mature Skin Antioxidant Concentrate
February 17, 2021
LEPAAR
Harmony Rose Serum | Mature Skin Antioxidant Concentrate
$60.00 $
Free U.S. Shipping, No MinimumSubscribers Save 15% In Our Retail Shops Every Day!
What is it? Lepaar Harmony Rose Serum is a high vibration, luxuriously harmonising, deeply moisturising and gently firming composition that soothes and lifts skin, heart and spirit.
Notes from the Curator: Energetically, Rose essence vibrates with the energy of the heart, and opens and strengthens our heart space to radiate love, joy and happiness.
Let's get Nerdy: Sun-infused extracts and cold-pressed seed oils of the hero members of the Rose (Rosacea) family synergise to deliver a complex blend that helps to deeply hydrate and soothes irritated skin; repair UV damage and fade dark spots; balances sebum and normalises skin function; reduces lines and strengthens the lipid barrier. The natural antioxidant 'Quercentin' in my Quince fruit and seed extract deserves a special mention, because it has the ability to extend life span and viability of skin cells.
Size: 15ml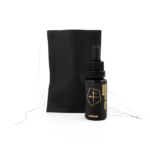 Harmony Rose Serum | Mature Skin Antioxidant Concentrate