Ideal Brightening Corrective Serum
February 17, 2021
TWELVE BEAUTY
Ideal Brightening Corrective Serum
$90.00 $
Free U.S. Shipping, No MinimumSubscribers Save 15% In Our Retail Shops Every Day!
What is it? Twelve Beauty Ideal Brightening Corrective Serum is a water-based antioxidant serum with a lotion-like texture, that brightens skin.
Notes from the Curator: With both lipidic and hydrating components, this works as a serum under an oil, as well as a light moisturizer over an oil. it is a lovely alternative to Vitamin C serums with potent plant-based antioxidants like white genepi, buddleja, imperatoria with antioxidant activity comparable to pure vitamin C. Great for even sensitiive skin, it earned a spot in our Beauty Box.
Let's get Nerdy: This lotion-y serum contains a synergestic botanical blend of 12 herbs backed by years of research: Mallow, Peppermint, Cowslip, Willowherb, Lady's Mantle, Heath Speedwell, Cucumber, White Genepi, Lemon Balm, Yarrow, Masterwort, Buddleja. Lady's Mantle is rich in tannins that have binding properties that helps improve the 'tone' of the skin, making it firmer, by 'drawing' the skin tissue together so to speak. This 'binding' property is also great for healing abrasions.
Size: 30ml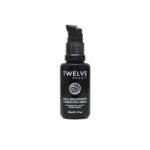 Ideal Brightening Corrective Serum