Kaveri Calming Shampoo Bar
September 19, 2021
ABHATI SUISSE
Kaveri Calming Shampoo Bar
$24.50 $
Subscribers Save 15% In Our Retail Shops Every Day!
What is it? Soothe dry, irritated hair and scalp with the KAVERI Calming Shampoo Bar.
Notes from the Curator: The Soother to the rescue! Kaveri contains scalp-healing sandalwood and salicylic acid to nourish hair and scalp while calming flakes and redness.
Let's Get Nerdy: Salicylic acid gently buffs away flakes, while the antioxidants in vitamin E calm irritation and form a barrier to hydrate and protect. Sandalwood oil then acts as a natural emollient to soothe any remaining irritation. Kaveri cleanses thoroughly to calm itchy, flaky scalp, while also stimulating circulation and follicle growth.
Size: 58g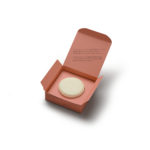 Kaveri Calming Shampoo Bar