You cannot add "Ultra Revitalising Elixir" to the cart because the product is out of stock.
Lullaby Melting Balm Cleanser
March 18, 2021
KISS KISS
Lullaby Melting Balm Cleanser
$24.00 $
What is it? Lullaby is a soothing massage balm cleanser that transforms into a gentle cleansing milk when baby is placed in the water, creating a nourishing milk bath.
Notes from the Curator: Non-irritating, this no-foam cleanser is gentle enough for baby's face, wispy hair, and sensitive skin.
Let's Get Nerdy: Made with cold pressed organic omega rich oils of Kalahari melon, sesame seed oil and coconut oil, Lullaby is inspired by ancient Ayurvedic and Korean oil cleansing method that cleanses gently and moisturizes the skin in one single application and is dermatologically tested on all skin types; newborns, toddlers, children, and mommas!
About the Brand

Meet Shelly Ann Winokur. She's the founder and formulator of Kiss Kiss Goodnight's products.
Shelly created Kiss Kiss Goodnight based on her experience as a mother of four, her years of experience as a chemical engineer and her specialized training in organic skincare

How to Use

Bedtime Ritual (How to Use):

Step 1: Massage our Lullaby Melting Balm Cleanser onto baby's DRY SKIN (yes, you apply it before the bath, no fumbling with products while holding baby!) Feel free to sing a sweet lullaby during the massage. Little babies like the same lullaby over and over and over again. We love twinkle twinkle little star.

Step 2: Place baby in warm bath water and the balm transforms into a milk cleanser (the bathwater magically transforms into a vegan-milk bath, no suds here!) Use our Full Moon Konjac sponge (link to product) to wash off milk.

Step 3: Rinse and dry your clean and moisturized baby (some nourishing oils absorbed into baby's skin during the massage and bath, win, win!).

Ingredients

Sesamum Indicum (Sesame) Seed Oil*, Cocos Nucifera (Coconut) Oil*, Glycerin*,
Citrullus Lanatus (Melon) Seed Oil*, Sucrose Laurate**,
Aqua, Sucrose Stearate**, Sucrose Palmitate**,
Rosmarinus Officinalis (Rosemary) Leaf Extract*

*Certified Organic

**Sugar-base emulsifier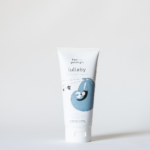 Lullaby Melting Balm Cleanser